It's very Islamic, it's in the koran, hadiths and sunna of Mohamed.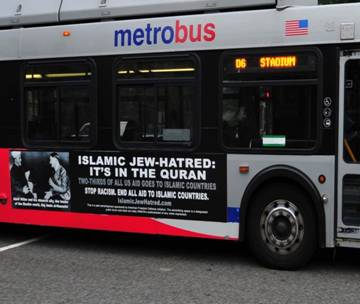 Once again I am grateful to Pamela Geller whose nonpareil intrepid, and creative activism is helping bring these critical matters to the public's attention.
Bus-ted: Hajj Amin el-Husseini's Canonical Islamic Jew-Hatred
Kudos to Pamela Geller for her new bus advertisement campaign countering the relentless, defamatory propaganda jihad against Israel. Ms. Geller's latest effort introduces the general public to the Islam in Islamic Jew-hatred via one of its major 20th century avatars: the ex-Mufti of Jerusalem, prototype Palestinian Muslim jihadist, and longstanding Nazi collaborator, Hajj Amin el-Husseini (b. 1895-97; d. 1974).
Just 6-months earlier, in November 2013, I released the first detailed, textual analysis of el-Husseini's canonical Islamic Jew-hatred, The Mufti's Islamic Jew-Hatred: What the Nazis Learned from the "Muslim Pope".
Prior assessments focusing on el-Husseini's World War II era collaboration with the Nazis have argued that the Mufti's murderous, Jew-hating ideology was simply another manifestation of Nazi evil, transplanted to a local "nationalistic struggle" in the Middle East. A more recent and "nuanced," if parallel negationist trend, which is now widely prevalent, claims that el-Husseini's canonical Islamic Jew-hatred somehow represented a sui generis"Nazification" of Islam, which has "persisted" into our era. My study demonstrated that neither of these conventional, pseudo-academic tropes withstands any serious, objective scrutiny.
On June 30, 1922, a joint resolution of both Houses of Congress of the United States unanimously endorsed the "Mandate for Palestine," confirming the irrevocable right of Jews to settle in the area of Palestine—anywhere between the Jordan River and the Mediterranean Sea. The Congressional record contains a statement of support from New York Rep. Walter Chandler which includes an observation, about "Turkish and Arab agitators . . . preaching a kind of holy war [jihad] against . . . the Jews" of Palestine.
During this same era within Palestine, a strong Arab Muslim irredentist current—epitomized by Hajj Amin el-Husseini—promulgated the forcible restoration of sharia-mandated dhimmitude for Jews via jihad. Indeed, two years before he orchestrated the murderous anti-Jewish riots of 1920, that is, in 1918, Hajj Amin el-Husseini stated plainly to a Jewish coworker (at the Jerusalem Governorate), I. A. Abbady, "This was and will remain an Arab land . . . the Zionists will be massacred to the last man. . . . Nothing but the sword will decide the future of this country."