MSNBC is a stinking swamp of racism, bigotry and mental nausea.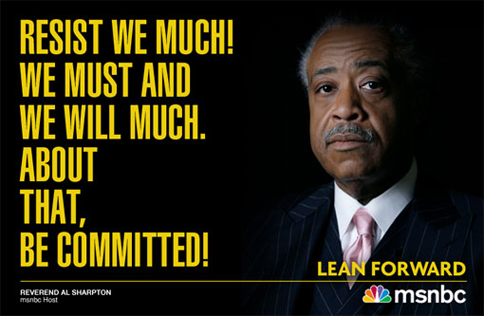 DUNETZ: Antisemitism Is Systemic At MSNBC
MSNBC's record, which includes a prime-time slot for Al Sharpton. the tenure of Pat Buchanan, and Chris Matthews' obsession with Jewish neo-cons is a red flag
The past two weeks have seen a series of tweets by MSNBC hosts displaying a lack of sensitivity about the Holocaust which some would call anti-Semitic. Combining those tweets with the network's history of hiring anti-Semites such as Al Sharpton, who led two anti-Semitic pogroms in New York City, and former political reporter Pat Buchanan, who was fired from MSNBC because of racism, while the network ignored his anti-Semitism, there seems to be systemic problem at the progressive network.
MSNBC's fortnight of strange Holocaust tweets began on May 12th with Ed Shultz's ridiculous claim that gay people were really the ones being persecuted by Hitler.
Following up this past Friday night, co-host of The Cycle  Toure' minimized the post Holocaust suffering of Jewish survivors with the claim they had an advantage because they were white.
"It's obviously absurd and smacks of intense and disgusting anti-Semitism. It's reverse-racism basically," Efraim Zuroff, Israel office director of the Simon Wiesenthal Center told TheBlaze on Tuesday.

"There is no question that part of the anti-Semitism that we see has its roots in the form of jealousy. This is a perfect example: 'Jews made it because they're white and Jews,'" added Zuroff, who is considered a leading investigator of Nazi war criminals who perpetrated the murder of 6 million European Jews in the name of racial purity.
This was not Touré's first brush with anti-Semitism​; the Daily Caller reported a year ago: