Animals.
It was this close: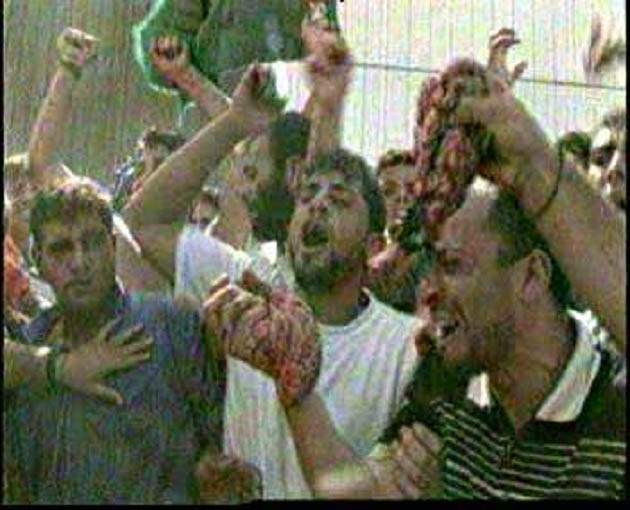 "Avi Issacharoff, who writes for Hebrew news site Walla and English news site Times of Israel, was one of the journalists attacked.

"Was attacked and beaten by Palestinian mob. Near Ramallah. Just because I'm an Israeli journalist," he wrote on his Twitter feed shortly after the incident."
2 Israeli journalists attacked in violent 'Nakba' clashes
150 Palestinians hurl stones, burning tires at Israeli forces north of Jerusalem after funerals of two teens killed Thursday
Violent protests erupted in several locations throughout the West Bank on Friday, after the joint funeral of two Palestinian youngsters who were shot dead by the IDF during Nakba Day demonstrations on Thursday.
In Beitunia, 14 kilometers (9 miles) north of Jerusalem, some 150 Palestinian protesters hurled stones and burning tires at Israeli security forces.
One demonstrator was lightly injured by a rubber bullet, according to Israeli media reports. There were no Israeli injuries reported.
Two Israeli journalists covering the events were evacuated from the area after being attacked by protesters, Army Radio said.
According to Walla News, its crew was approached by Palestinian reporters who told them to leave the area. When the Israeli crew refused, one of the Palestinian journalists reportedly called several masked men, who rushed over and menacingly surrounded the Israelis. One of the crew members was reportedly beaten.
Walla News said its team was successfully evacuated to a Palestinian security headquarters and then transferred to Israeli authorities. It said the mob of young men followed the Palestinian forces and the Israeli journalists as they attempted to drive away from the area, surrounding and beating on their vehicle.
Smaller protests took place in Kafr Qaddum, Bil'in, Tulkarem, Nablus and at the Qalandiya checkpoint near Ramallah.
Palestinian security forces, wary of the volatile situation after Thursday's deaths, had called on protesters to refrain from clashes with Israeli soldiers.
The Palestinian Authority declared a national day of mourning Friday in order to allow mass participation in the funerals of the two slain youths, whom unconfirmed reports identified as Nadem Syam, 17, and Mohamad Odeh, 15.
Palestinians said the two had been killed by live ammunition, but Border Police sources insisted troops had only used rubber-coated bullets. The IDF said it was investigating the incident.