Islam = herd thinking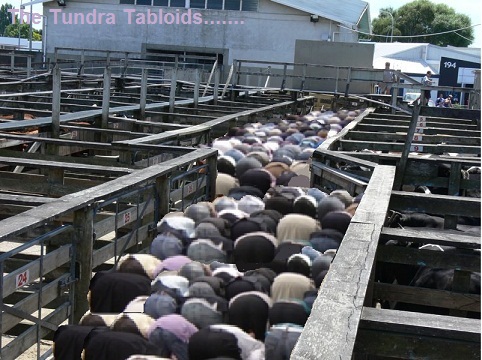 The degradation of women runs deep in Islam.
Other incidents reported by independent observers in social media: Ayazağa, Istanbul, Gülkan K.G.: "A family came to vote at my polling station. The woman said she cannot vote alone. She wanted to go in the booth with her husband. I said 'No.' One election official asked me, 'Why did you interfere? We like our wives stupid.'"
Do women vote in Turkey?
BELGİN AKALTAN – belgin.akaltan@hdn.com.tr
There are two Turkeys as this last local elections have once more shown us. In one, of course, women vote. In the other Turkey, unfortunately, men vote on behalf of women…
A woman casts her vote in Istanbul on March 30 in local elections. AFP Photo
What a silly question. Of course women vote in Turkey. Thanks to Mustafa Kemal Atatürk, the founder of modern Turkey, women's suffrage was achieved in Turkey in early 1930s, earlier than some European countries.

That is what has been taught to us, what we thought was the reality of this country.  

In the March 30 local elections in Turkey, we saw once more that there are two Turkey's. In one Turkey – that we know of – women do vote. In the other Turkey – that we are not so much familiar with – women do not actually vote.

Besides, in these local elections, we saw hundreds, thousands of people acting as independent observers, a fairly new concept for us. Those witnesses in polling stations and centers – mostly from the side of Turkey we know – later shared their observations in social media, opening a window for us to the other Turkey.

I voted in my former place in Üsküdar, Istanbul where there is a traditional neighborhood of individual buildings; and right next to them, there are fairly modern housing complexes called "sites." The polling stations in the same area, which are 100 meters apart, were like two different worlds. The clothes, attitudes, women's helplessness, the smell was rural, pathetic, of the 19th century in one, and in the other – the one we voted – (How can I explain?) well, everything was normal. Women and men were dressed in this century's clothes, polite, washed, smiling and helping each other. The first one was written all over it: "The Justice and Development Party [AKP] wins here. This is AKP territory."   

Anyway, my second anecdote, in my new neighborhood, which is a far place on the European side of Istanbul, Esenyurt, dominated by a Kurdish population, belongs to my cleaner who is a strong Kurdish woman, Hediye, married to a nice guy who is a Turkish nationalist. They went to the polls; her husband told the officials Hediye is ignorant (cahil) and would make a mistake, so they entered the booth together. Her husband stamped the Republican People's Party (CHP) (on behalf of Hediye) because the Nationalist Movement Party (MHP) candidate had no chance to win in our constituency. Hediye said she would have voted differently.