I wish the UK still had the death penalty.
UPDATE: H/T Diana West:  Judge says the murderous converts betrayed Islam:
GUILTY: given life, 45 years apiece, minimum of 30 years.
26 February 2014
Sentencing remarks of Mr Justice Sweeney
Michael  Adebolajo  (also  known  as  Mujaahid  Abu Hamza)  and  Michael  Adebowale  (also
known as  Ismail Ibn Abdullah) you have both been convicted, on overwhelming evidence, of
the barbaric murder of Fusilier Lee Rigby in Artillery Place in Woolwich in the early afternoon
of Wednesday 22 May last year.
You are British citizens, aged 29 and 22 respectively.  Adebolajo you are married with four
step children and two children of your own
Having presided over your trial I am sure of the following facts.
You each  converted to Islam some  years  ago.  Thereafter  you were radicalised  and each
became an extremist – espousing a cause and views which, as has been said elsewhere, are
a  betrayal  of  Islam  and  of the  peaceful Muslim  communities  who  give so much to  our
country.
The entire judicial reading here.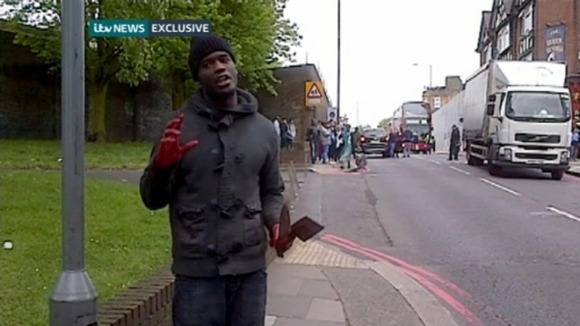 Lee Rigby trial: Live updates as Michael Adebowale and Michael Adebolajo sentenced for killing British soldier
All the latest from the Old Bailey where the two Muslim fanatics are to be sentenced for murder
City of London police confirms there have been three arrests so far during the unrest outside court.
One woman has been arrested on suspicion of drunk and disorderly, one man on suspicion of actual bodily harm and one man on suspicion of affray.
Old Bailey St has now been closed off in both directions to cars until the demonstration has ended.
Our reporter says the judge needs at least another ten minutes before sentencing.
The process is likely to start around 4.50pm.
We understand two arrests have been made after a fight between protesters and a group of Muslims near the court.
'My son will grow up and see images of his father that no son should have to endure': Lee Rigby's widow reveals family's anguish as Muslim converts who murdered him are sentenced
Fusilier Rigby, 25, left, was 'mutilated, almost decapitated and murdered' by Michael Adebowale, 22, bottom right, and Michael Adebolajo, 29, top right, who ambushed him outside his barracks in Woolwich, South East London on May 22 last year. Rebecca Rigby, inset, said in her victim impact statement: 'My son (Jack) will grow up and see images of his father that no son should have to endure'.
She spoke out after her husband's family arrived at the Old Bailey wearing matching t-shirts (centre left to right, step-father Ian Rigby, mother Lyn Rigby and sisters Sara McClure and Chelsea Rigby). In December the two fanatics were found guilty of butchering the father-of-one but their sentencing was delayed until today after Strasbourg judges tried to end whole-life tariffs.
But last week senior British judges defied the European Court of Human Rights. Today Adebolajo's QC told the court that sentencing his client to life without parole would make him a 'martyr', while Adebowale's legal team said a whole-life term would be 'inhuman' for a man so young. They will be sentenced after 4.30pm.