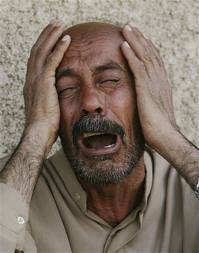 Woman in Syria slow strangled to death in accordance to sharia law
12 FEB 2014 – 6:52PM
Gunmen kill 3 Egypt policemen
Three policemen in the Suez canal city of Ismailia have been shot dead hours after two other officers were killed in separate attacks.
Gunmen have shot dead three policemen near the Suez canal city of Ismailia and seized their weapons, bringing to five the number of policemen killed in 24 hours in Egypt.
Attacks on security force personnel have surged since the army ousted Islamist president Mohamed Morsi in July and the military-installed authorities launched a deadly crackdown on supporters of the deposed leader.
The unknown assailants late on Tuesday opened fire on a police car travelling along the highway linking Ismailia to Cairo, killing the three policemen, one of them an officer, security officials said.
The attackers then seized their weapons and fled.
Earlier on Tuesday, unknown assailants shot dead a police officer and a policeman in separate attacks in the Suez canal city of Port Said and in Ismailia.
The latest deaths bring to 22 the number of policemen killed in militant attacks since January 23, according to an AFP tally based on reports by security officials.
An al-Qaeda inspired group, Ansar Beit al-Maqdis or Partisans of Jerusalem, has claimed most of the deadliest attacks in Egypt since Morsi's ouster, saying they were in revenge for a deadly crackdown by the security forces on his supporters.
Sydney man and roadside preacher Ahmad Moussalli killed in Syria
Ahmad Moussalli, centre, in Parramatta / Picture: Facebook Source: Supplied
A SYDNEY man killed fighting as a rebel in Syria was preaching Islam to passers-by on the streets of Parramatta before he flew out to the ­Middle East.
Ahmad Moussalli, whose Facebook page and friends said he died in the conflict ­earlier this month, had been involved in the Sydney "street dawah" movement, where young Muslims preach their religion and try to get people to convert to Islam.
The Facebook profile boasts he converted more than 30 people prior to his departure to Egypt in late 2012 to "study Arabic".
Last July, Mr Moussalli posted a video on YouTube urging others to head to the Middle East, saying his time there had been a "very, very good experience".
Ahmad Moussalli in Parramatta / Picture: Facebook Source: Supplied
He also used Facebook ­repeatedly to urge supporters to donate money towards his trip, but it is unknown ­whether those funds helped him travel to Syria to become one of anywhere between 25 and 200 Australians there ­engaged in conflict.
Some of Mr Moussalli's posts featured religious quotes, including one alongside a photo of a grave which said in part: "The softness … of the heart and its purity only comes about by remembering death, the grave, reward and punishment, and the horrors of the hereafter."
Iraq speaker targeted in blast as 21 militants killed
By Ammar Karim (AFP) – 1 day ago
Baghdad — Iraq's parliament speaker narrowly escaped an attack in his hometown on Monday, while 21 militants died when a car bomb they were readying mistakenly went off, officials said.
The unrest comes amid the worst protracted period of bloodshed in nearly six years, with more than 1,000 people killed last month as security forces grapple with near-daily attacks and battles with anti-government fighters in Anbar province.
Foreign leaders have pressed the Shiite-led government to reach out to the disaffected Sunni minority to undermine support for militants, but Prime Minister Nuri al-Maliki has taken a hard line ahead of April elections.
On Monday, a convoy carrying parliament speaker Osama al-Nujaifi, Iraq's most senior Sunni Arab politician, was hit by a roadside bomb in the main northern city of Mosul, his office said.
One of Nujaifi's bodyguards was wounded, a police captain and a medical source said, but the speaker himself escaped unharmed.
At least one person killed in blast near Yemen's oil ministry
By Adel and al-Khader
SANAA (Reuters) – A bomb exploded inside a taxi in the Yemeni capital Sanaa on Sunday, killing a colonel in the country's domestic secret service, a security source said.
It was the latest attack targeting senior officers in the Western-allied country.
The source said two other people were seriously wounded in the blast which occurred outside the oil ministry building in downtown Sanaa. The source blamed Islamist militants linked to al Qaeda for the attack.
State news agency Saba said the explosion at the gate of the oil ministry was caused by a car bomb. It said the driver and a passerby died in the blast while a number of people were wounded.
Yemen has been grappling with violence and lawlessness since Arab Spring protests forced long-serving President Ali Abdullah Saleh's rule in 2011.
Pakistan militants kill nine anti-Taliban militia members in Peshawar
Group of 25 militants attacks house of Israrullah Khan, head of local militia supported by the Pakistani government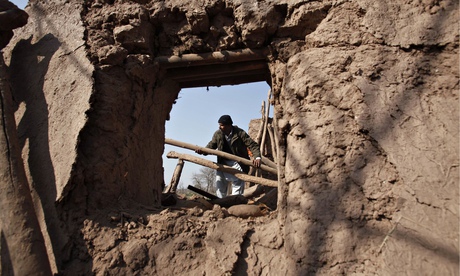 A resident collects items from the rubble of a house after it was damaged by grenades from gunmen on the outskirts of Peshawar. Photograph: Fayaz Aziz/Reuters
Militants killed nine members of an anti-Taliban militia on Wednesday in Pakistan's north-western city of Peshawar, police said.
No one immediately claimed responsibility for the attack. Peshawar sits near restive areas along the Afghan border that are home to Pakistani Taliban and al-Qaida-linked foreign Islamic militants.
The Pakistani Taliban have been waging a bloody war against the government in a bid to overthrow the authorities and enforce their hardline brand of Islamic sharia law.
In Wednesday's attack, a group of about 25 militants attacked the house of militia chief Israrullah Khan on the outskirts of Peshawar, killing him and eight of his relatives, said police official Jamal Khan.
The official said that earlier in February, the militia chief's son and two other people were also killed after they shot dead a militant commander.
Khan was the head of the militia supported by the Pakistani government to fight and block infiltration of the militants from the surrounding tribal regions, the official said. He said the attackers first lobbed handgrenades into a guest house in the Khan family compound, then opened fire with automatic rifles when the inmates ran outside.
Suicide bomber hits NATO convoy in Afghanistan; 2 contractors killed
U.S. soldiers and Afghan security forces search the site of a suicide bombing in Kabul. (Rahmat Gul / Associated Press / February 10, 2014)
By Hashmat Baktash This post has been updated. See the note below for detailsFebruary 10, 2014, 11:43 a.m.
KABUL, Afghanistan — Two civilians working for the U.S.-led military coalition in Afghanistan were killed Monday in a suicide car bomb attack on a NATO convoy in eastern Kabul, officials said.
An official at Pul-e-Charkhi prison, near the site of the blast, said the victims were American security advisors who work on a State Department-funded program to bolster the Afghan corrections system.
The advisors had just left the prison when their convoy was attacked, said the official, who spoke on condition of anonymity because he wasn't authorized to speak to the media.
North Atlantic Treaty Organization officials issued a statement describing the victims as contractors, but didn't immediately confirm their nationalities.
Zubair Sediqqi, a Pakistan-based spokesman for the Hezb-i-Islami militant faction led by Gulbuddin Hekmatyar, claimed responsibility for the suicide attack.