I won't link directly to the site, but you can sniff around on your own if you want. This is one of the darker stains on Luther's life work, and can't be explained away with apologetics owing it to some "illness" stemming from a mental disorder or bad indigestion. He wrote what he wrote.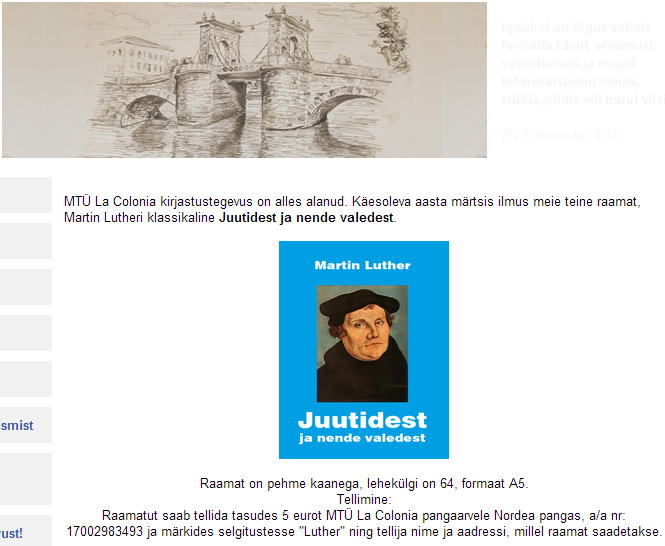 Finland: Kotimaa24: Luther's anti-Semitic book is to be published in Finnish
FINLAND 11.2.2014, at 18:25.
Registered in Estonia as the National Socialist MTÜ La Colonia (abbreviated MTÜ) will publish in Finnish Martin Luther's 1500's edition of the anti-Semitic pamphlet, Kotimaa24 told on its website on Tuesday.
Jews and their Lies book was published for the first time in 1939 in Finnish.
On its web page, the NGO La Colonia informs that it is a part of the International Brotherhood of National Socialists.
Kotimaa24's interview with Professor of Criminal Law Kimmo Nuotio believes that the organization's intention to publish the book in Finnish, stretches the limits of the law. According to him, it should be considered whether a situation in which, for example, a book published in Estonia that was for the sale in bookstores in Finland could be incitement against an ethnic group.