Muslims being Muslims.
Dr.Manfred Gerstenfeld has written an excellent op-ed piece exactly on the subject. Norway is also guilty of the same thing, so it's more of a wider phenomenon, not just a UK thing.
Dr.Gerstenfeld:"Italian journalist Angelo Pezzana relates how International Holocaust Remembrance Day is abused in many parts of Italy: "Marking the 27th of January as a day of remembrance has turned it into a national event where everyone can express his opinion, however miserable. The latter happens mostly in schools. Meetings are held with hundreds of students present, where extreme leftist professors are invited to speak. They present the Shoah in a distorted way. This leads to a public debate usually linking the crimes of the Nazis to Israeli policies."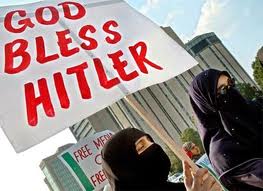 London Holocaust Day Speaker Admires Hitler, Despises Jews
Why was Hassan Farooq, who promotes 'Jew bashing', asked to front last year's official Holocaust Memorial ceremony?
By Gil Ronen and Ari Soffer
First Publish: 1/27/2014, 3:56 PM
Anti-Semitic tweets
StandForPeace
An interfaith group which works to combat political and religious extremism in the UK has raised awkward questions about the way anti-Semites "use" holocaust memorials to "sanitize" their own images, even as they actively engage in anti-Jewish bigotry.
On Holocaust Memorial Day in 2013, a young British Muslim named Hassan Farouq was a participant in the official Holocaust Memorial Day ceremony at London's City Hall. During the ceremony he read out a text about the importance of reflecting upon the consequences of the Holocaust and remembering the victims of Nazi persecution.
Yet Stand for Peace today released clear evidence of Farooq's own rabid anti-Semitic views, including open glorification of Nazism and Adolf Hitler, and questions whether London officials who approved his participation in the ceremony ascribe any value to Holocaust Memorial Day at all.
Hassan Farooq – Nazi sympathiser
"I look up to Hitler"
As part of its investigation, Stand for Peace has published a slew of offensive tweets made by Farooq. They include the following:
"The hour will not come until the Muslims kill the Jews."

"Let's go Jewish bashing."

"Oh hypocrisy nothing new its in his blood after all you can't blame him he's a Jew"

"I look up 2 Hitler :p"

"Hitler: I can kill 10000 by putting them into gas chambers B-)"

"Gassing is my hobby"
Glorifying Nazism on Twitter Screenshot – Stand for Peace
More here. H/T: Sam Westrop