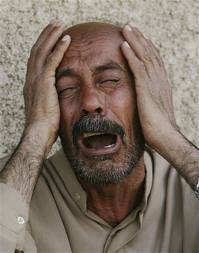 Pakistan air strikes kill top Taliban leaders, 33 Uzbek fighters
Top Taliban leader Asmatullah Shaheen Bhittani, who briefly headed the Tehreek e Taliban Pakistan after the death of
Hakimullah Mehsud last November, 33 Uzbek nationals and three Germans, were among those killed in the night- long air strikes in North Waziristan Agency since Monday.
Military sources said that most of the 40 terrorists killed in North Waziristan strikes on the night of January 20 and 21 were foreign fighters which include 33 Uzbeks, 3 Germans and important terrorist commanders, Wali Mohammed, Bhittani, Noor Badshah and Maulvi Farhad Uzbek.
After the attack in Bannu Cantonment on Sunday which killed 20 Frontier Corps men and the blast near the General Headquarters of the army in Rawalpindi on Monday which claimed at least 13 lives, suspected militant hideouts were targeted by air strikes in North Waziristan Agency.
Officials: Attackers on motorcycle kill 5 policemen in southern Egypt
Associated Press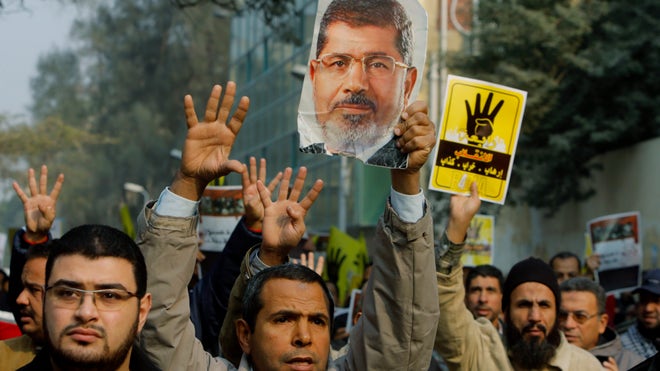 FILE – In this file photo taken Friday, Dec. 20, 2013, supporters of Egypt's ousted President Mohammed Morsi hold his poster as they raise their hands with four fingers, which has become a symbol for Morsi supporters, during a protest in Cairo, Egypt. While last week's constitutional referendum approved the draft charter, the low turnout – less than 39 percent – has put on display the country's enduring divisions six months after the ouster of Morsi and nearly three years after autocrat Hosni Mubarak was overthrown. (AP Photo/Amr Nabil, File) (THE ASSOCIATED PRESS)
CAIRO –  Egyptian security officials say masked gunmen riding on a motorcycle have killed five policemen at a checkpoint in the country's south.
The officials say the attack took place early Thursday when the armed men opened fire on the checkpoint in the el-Wassta district in the southern province of Bani Suief.
Two policemen were also wounded in the attack. The officials spoke on condition of anonymity because they are not authorized to talk to the media.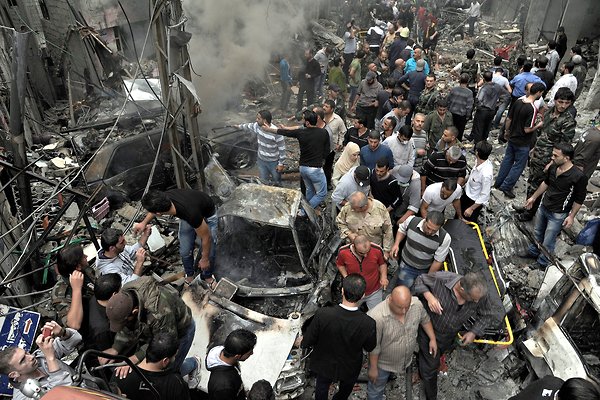 File photo
Twin car bombs kill Syrian rebels in deadly rivalry with al Qaeda linked fighters
21/01 01:29 CET
Two car bombs have killed at least sixteen people at a rebel-held post on the Syrian border with Turkey. The bombs went off within ten minutes of each other.
The Bab al-Hawa crossing is held by a rebel alliance called the Islamic Front which has been confronting al Qaeda linked foreign fighters in the region.
More than 1,000 rebels have died in clashes between rival groups in the last three weeks.
The upsurge of violence has weakened the nearly three-year-old armed campaign to topple President Bashar al-Assad.
Six guards killed protecting Spanish cyclist in Pakistan's wild west
"Enjoying the Iranian food": Javier Colorado escaped serious injury in shooting. Image via his Facebook page.
Quetta, Pakistan: Gunmen have shot dead six guards protecting a Spanish round-the-world cyclist in a violent and remote area of western Pakistan where a bus bomb killed 24 Shi'ite pilgrims a day earlier, police said.
The cyclist, identified as Javier Colorado, suffered minor wounds when he and his convoy were ambushed, police said, but Colorado's family said he was not hurt.
He had crossed into Pakistan's western province of Baluchistan from Iran, his family said. At least five other guards were wounded.
'Death Road' blocks Afghan minority from homeland
In this Thursday, Jan. 9, 2014 photo, an Afghan policemen stand guard at a check post in Kabul-Bamiyan road, on the outskirts of Maidan Shahr, capital of Wardak province Afghanistan, Thursday, Jan. 9, 2014. —
Updated 2014-01-23 10:01:57
MAIDAN SHAHR: Maps refer to it as part of the Kabul-Behsud Highway. Motorists call it Death Road.
A 30-kilometer stretch of two paved lanes heading west from the town of Maidan Shahr in central Afghanistan has seen many beheadings, kidnappings and other Taliban attacks in recent years against members of the minority ethnic Hazara community. Nowadays, nearly all drivers avoid it.
The highway is the main route between the Afghan capital and Hazarajat, the informal name of the 45,000-square mile region of highlands and rich pastures where Hazaras have traditionally settled.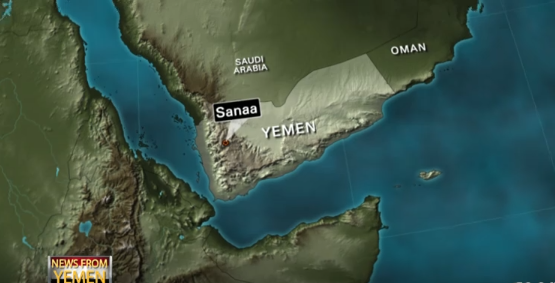 Yemen Officials Say Gunmen Kill Rebel Envoy
SANAA, Yemen January 21, 2014 (AP)
By AHMED AL-HAJ
Unidentified gunmen assassinated the top envoy of a northern Yemeni rebel movement in the capital early Tuesday, security officials said.
The officials say Ahmed Sharaf Eddin was gunned down in his car. They spoke on condition of anonymity because they were not authorized to talk to the media.
Sharaf Eddin represented the Hawthi rebels, who are members of a Shiite sect, in the so-called National Dialogue talks. The long-running negotiations bring delegates from across the country to draw up a blueprint for a new constitution under a transition plan in the wake of the country's 2011 uprising.
The Hawthis fought a bloody six-year insurgency against the government that ended with a cease-fire in 2010, but a recent escalation in fighting between them and ultraconservative Sunni tribesmen has turned several northern cities into war zones.
S.Sudan accuses rebels of killing 127 patients
Publish Date: Jan 23, 2014
A South Sudanese government soldier is pictured, on January 18, 2014 in Bor, a strategic town South Sudanese government forces backed by Ugandan troops recaptured from rebel forces loyal to deposed vice president Riek Machar. AFP PHOTO
JUBA – The South Sudanese government has accused rebel troops of committing atrocities against civilians by killing 127 hospital patients in the town of Bor last month.
The United Nations says thousands of people have been killed in more than a month of clashes pitting troops loyal to President Salva Kiir against rebels supporting Riek Machar, who was sacked as vice president in July.