Once a commie punk, always a commie punk.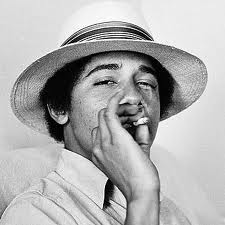 This goes to underline what many of us have been saying about Obama, regardless of whether he was born in Hawaii or elsewhere, his formative years remained outside of the US, and his mentors were Marxists. He doesn't connect with the idea and culture of America, and it's a gross miscarriage of justice that this charlatan wasn't properly vetted by the US media, let alone elected to the land's highest office, twice.
NOTE: Islamic law would still deem his half-brother to be a Muslim, since his father belonged to the sons of the desert.
H/T: Anne Lieberman
OBAMA'S HALF-BROTHER REVEALS WHAT THE PRESIDENT DID THE FIRST TIME THEY MET IN KENYA AND TALKED ABOUT 'HEROES OF WESTERN CULTURE'
Sharona Schwartz
President Obama's half-brother told an Israeli newspaper that when he first met Barack, he was struck by his sibling's rejection of Western culture.
"I remember that my impression at the first meeting was that Barack thought that I was too white, and I thought that he was too black," Mark Okoth Obama Ndesandjo told Maariv. "He was an American citizen on a journey in search of his African roots, while I was a resident of Kenya seeking to find his white roots."
"I remember that when I spoke with him about the heroes of Western culture he rolled his eyes impatiently. My feeling was that, here is an American who in many ways is trying to be a local Kenyan youth. This is something I tried to flee my entire life," Ndesandjo said of the brothers' first meeting in Kenya, which Obama described in his 1995 best-selling memoir, "Dreams From My Father."