The very last thing Israel needs are Muslims flooding its borders.
H/T: Sheik Yer'Mami: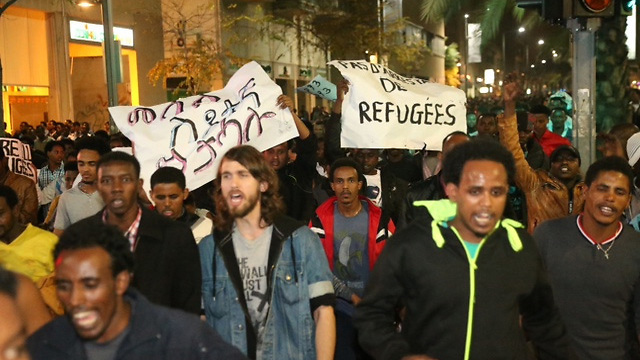 Photo: Motti Kimchi
Tel Aviv: thousands of bleeding hearts march for African Muslims to remain in Israel
by SHEIKYERMAMI on DECEMBER 28, 2013
Cultural enrichment:
  "We didn't come here to work… we are trying to survive and the Israeli government will not let us do that…"
TA: Thousands protest against detention of asylum seekers
Israeli citizens, African migrants march from south Tel Aviv to city center against State's detention of asylum seekers from Sudan, Eritrea
Thousands of protesters marched in Tel Aviv, crying out against the detention without trial of African refugees in the Saharonim and Holot detention facilities. The protesters, African migrants and Israeli citizens, marched from Levinsky Park in South Tel Aviv to Rabin square in the city's center.
One of the protestors, Ibrahim from Eritrea, said: "I cannot go back to Eritrea because I will get killed. There is a severe political problem there. If I could go back home, I'd have gone back a long time ago.
Ibrahim added that "the immigration police always arrest me, not allowing me to live like a human being."