The Religion of kidnapped Peacekeepers.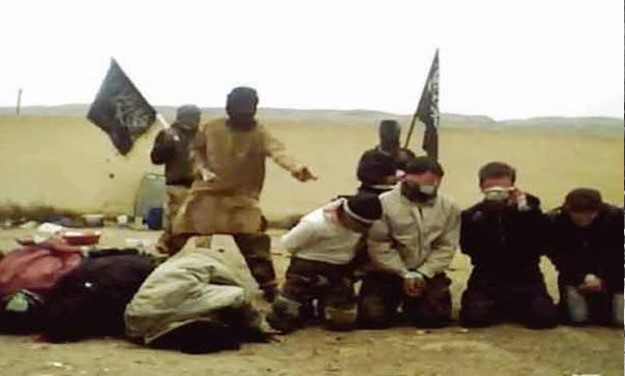 Islam is the main scourge of humanity, with socialism a very very close second.
Scrawled notes from al-Qaida leader reveal plot to kidnap UN peacekeepers in Syria
Iraqi spies release letters and first known photo of head of Nusra Front


Al-Golani's notes instruct others to continue with plans even if he dies
By ASSOCIATED PRESS REPORTER
PUBLISHED: 02:13 GMT, 26 December 2013 | UPDATED: 02:13 GMT, 26 December 2013
Leader: A picture believed to be Abu Mohammed al-Golani, who heads al-Qaida's Nusra Front
Scrawled notes from the shadowy leader of a powerful al-Qaida group fighting in Syria revealed a plot to kidnap UN workers, according to excerpts of the letters.
The plans, believed to have been written by Abu Mohammed al-Golani, were handed over by Iraqi intelligence officers along with the first known photo of the Nusra Front leader.
Included in the notes from al-Golani, who heads one of the most powerful bands of radicals fighting the Syrian government, were instructions for aides to continue with the plans in the event of his death.
The officials said they obtained the information about al-Golani after capturing members of another al-Qaida group in September.

They spoke on condition of anonymity because they weren't authorized to speak to journalists.
'I was told by a soldier that he observed some of the workers of the UN and he will kidnap them. I ask God for his success,' read an excerpt of a letter given by officials from Iraq's Falcon Intelligence Cell, an anti-terrorism unit that works under Prime Minister Nouri al-Maliki.
The officials said other letters planned the kidnapping and killing of other foreigners, and Syrian and Iraqi civilians.
One UN worker was kidnapped for eight months in Syria and was released in October. Another two dozen UN peacekeepers were briefly held this year. It's not clear if those abductions had any relation to al-Golani's letters.
Syria's uprising began with peaceful protests, but it turned into an armed uprising after President Assad's forces cracked down on demonstrators.
Since then, hard-line Islamic brigades have emerged as the strongest rebel forces in Syria, chiefly among them the Nusra Front.