And the US Left would like nothing better than to do the same with Obama.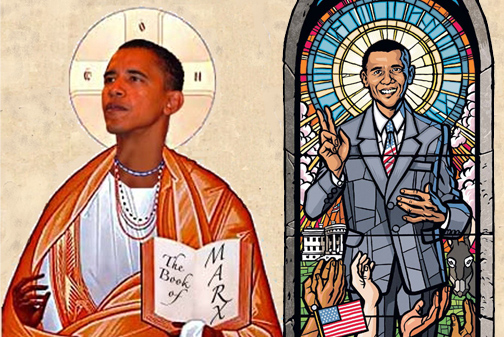 In China, Chairman Mao still bigger than Jesus
Hundreds of thousands expected at Chairman Mao's home village for the 120th anniversary of his birth
A woman pays her respects to a gold statue of Mao Zedong in Shaoshan, the home of Mao Zedong  Photo: Adam Dean for The Telegraph
By Malcolm Moore, Shaoshan
3:03PM GMT 25 Dec 2013
In this small, perfectly manicured village in the heart of the Chinese countryside, Christmas Day meant nothing. The real celebration is tomorrow, Boxing Day.
For Thursday is the 120th anniversary of the birth, in the spacious home of a prosperous landowner, of the village's most famous son: Chairman Mao.
Officially, the celebrations are supposed to be simple and low-key; the Communist party is trying to shed a reputation for ostentatious spectacles and reconnect with its roots as a workers' movement.
"Xi Jinping (the president) himself told the leaders here in Shaoshan there should be no gala, no singing, no dancing and no big events," said one employee at a tourist concession.
More here. H/T: Fjordman