They could always try it in drag.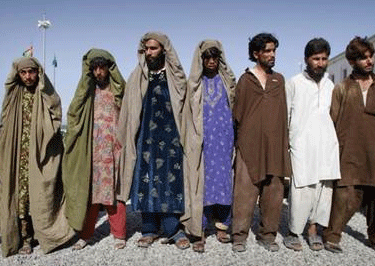 This is the very same 'sisterhood' in which the mother of Huma Abedin (a top Hillary Clinton adviser) is an influential top member. In fact, the entire family is Muslim Brotherhood connected.
Let this sink in for just a moment. The journal Huma worked for – which promotes Islamic supremacism and was founded by al-Qaida financer Naseef, who also headed the Muslim World League, a leading Muslim Brotherhood organization – is called the Journal of Muslim Minority Affairs. It was edited first by Huma's father, Syed Abedin, and now by her mother, Saleha Abedin. Saleha is a member of the Muslim Sisterhood. Mother Abedin also directs an organization (the International Islamic Committee for Woman and Child) that comes under the umbrella of the Union for Good, another U.S.-designated terrorist organization. As McCarthy reminds us, "the Union for Good is led by Sheikh Yusef al-Qaradawi, the notorious Muslim Brotherhood jurist who has issued fatwas calling for the killing of American military and support personnel in Iraq as well as suicide bombings in Israel."
Egypt's Muslim Sisterhood takes lead in protests
By MAGGIE MICHAEL57 minutes ago
CAIRO (AP) — They tirelessly hold rallies, whether at night or under cold rain, chanting for the return of Egypt's ousted Islamist President Mohammed Morsi. They clash with police, hurling back fuming tear gas canisters and getting dragged by their veils and thrown behind bars. At protests in universities, they get into fistfights with rival female students.
Women supporters of the Muslim Brotherhood have stepped into the front line of Islamist protests, once of the few branches of the organization not crushed by a heavy crackdown since Morsi's removal in a July 3 coup.
Former group members say it's an intentional survival tactic by the Brotherhood, aiming to keep its street pressure alive and betting that security forces are less likely to strike heavily against women — and that if they do, it will win public sympathy for the Islamists' cause.