Ho ho halal……..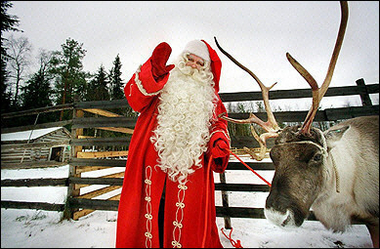 Never occurs to the Lapp that portion of the proceeds of the sales goes to funding the jihad being waged against him.
UPDATE: Doris Wise Montrose adds: "The world turns their face when the Muslims stone women and young girls, for cutting off heads of people for any perceived slight or for being Jewish, slicing up their heads and backs and those of their babies as a way of celebrating one of their insane holidays, horrific abuse of dogs, hanging homosexuals from cranes. Maybe the "Halal" slaughter of reindeer will wake people up to the fact that Muslims are the devil incarnate and need to be exorcised from this earth."
H/T: Diana West
Reindeer in northern Norway
Norway produces first ever halal reindeer meat
Published: 02 Dec 2013 09:28 GMT+01:00
A specialist abattoir in northern Norway has slaughtered the country's first ever halal reindeer meat, with a view to selling it to top-end restaurants as far afield as Dubai.
Harry Dyrstad last week slaughtered 100 animals according to halal rules, inviting members of the Islamic Council to accompany his mobile slaughterhouse out to the herds surrounding his small meat-processing plant in Steinkjer, north of Trondheim.
"We had the idea one and a half years ago," Dyrstad told The Local. "We spoke to someone who had some contacts in Dubai, and he said that if you want to sell reindeer meat, it has to be halal, so we had to try."
Dyrstad also aims to cure some of the meat as a halal alternative to ham, which he hopes to sell to muslims in Norway.
"We got some information that we could produce some ham from the reindeer, so the children can have ham on their bread," he said.
Mehtab Afsar, General Secretary of the Islamic Council of Norway and one of those who oversaw the slaughter, said he was looking forward to tasting reindeer for the first time.
"This is a brand new halal product that Muslims have not had access to before. I am told that this is a very good meat, but I've never tasted it myself," he told the Adresseavisen newspaper.