Fickle French……and very delusional.
Laurent Fabius all smiles and giggles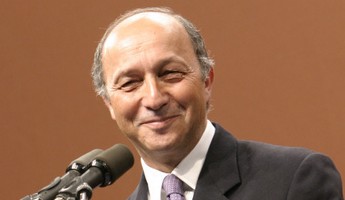 Q. – Are you sure France hasn't given in and abandoned Israel, its ally?
The minister – I'm sure that this line of progress and vigilance has been maintained. We've been in constant contact with Israel. François Hollande was in Israel last week; the visit went very well. Likewise, Mr Netanyahu, the Israeli Prime Minister, went to Russia a few days ago.
Q. – He says he's worried.
The minister – He expressed this worry to us; we talked completely openly. You must also understand the context: the Iranian authorities sometimes make provocative statements about Israel.
Q. – Supreme Leader Khamenei…
The minister – Yes, as you remember, including last week.
Q. – He said last week, while you were negotiating: Israel is doomed to disappear. That's not reassuring.
The minister – No, of course not. Those are provocations. In that context, I obviously understand Israel's reaction, but at the same time we've worked to ensure that the security of all the countries in the region – including Israel – is better guaranteed.
Q. – But isn't there a threat of pre-emptive, defensive strikes by Israel during this six-month period?
The minister – At this stage, no, because no one would understand it.