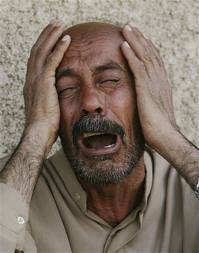 Bloodbath at Yemeni wedding after guests are shot dead while dancing to Gangnam Style when reveller 'tries to fire AK-47 into the air to celebrate'
At least three men are believed to have been killed
By NICK ENOCH
PUBLISHED: 21:25 GMT, 22 November 2013 | UPDATED: 21:36 GMT, 22 November 2013
A wedding in Yemen became a scene of carnage when a reveller dancing to Gangnam Style shot dead at least three people after apparently losing control of his AK-47.

Horrific footage of the incident has emerged showing a group of guests performing the moves to the hit song by South Korean pop star Psy.
Among them is one man waving his assault rifle as he gyrates on the dancefloor while others look on.
[…]
The video could not be independently verified.
It is also not known if the gunman was arrested after the incident.

Although it is illegal in many parts of Yemen to carry weapons during weddings, gunfire during such celebrations is common practice.
There are frequently reports of fatalities despite the authorities' best efforts.
Last year, a tribal sheikh was killed by 'celebratory' gunfire – and as a result, there was a nationwide petition against guns.
Deadly blasts hit Pakistani city of Karachi
The aftermath of one of the blasts in Karachi revealed widespread damage
At least seven people are reported to have been killed in two bomb explosions in a busy area of Pakistan's southern city of Karachi.
At least 18 people were injured in the predominantly Shia area of Ancholi, local media report.
Angry crowds gathered at the scene, denouncing the attacks.
The improvised explosive devices (IEDs) were placed on motorcycles parked near cafes and tea stalls, police. No group has said it carried out the attack.
Shia-Sunni tensions
Local police official Javed Odho told AFP news agency that the IEDS had gone off "with a big bang".
Child killed in clashes in Egypt's Suez city
Publish Date: Nov 23, 2013
Supporters of ousted president Mohamed Morsi and the Muslim brotherhood run away from tear gas during clashes with Egyptian riot police. PHOTO/AFP
 CAIRO – A 10-year-old boy was shot dead on Friday near the scene of clashes between supporters and opponents of deposed Islamist president Mohamed Mursi in Egypt's northern city of Suez, security and medical sources said.

In Cairo, a 21-year-old man died after being shot in the chest during clashes between pro- and anti-Mursi protesters, and across the country another 14 people were injured in confrontations, the head of the ambulance authority told the state newspaper al-Ahram.
Yemen Houthi MP shot dead in capital
Abdul Karim Jedban, who was involved in reconciliation efforts, is gunned down and UN envoy's convoy is also shot at.
MP Abdul Karim Jedban was shot dead armed assailants on a motorbike in Sanaa [Yemen Parliament Watch]
A Yemeni MP who is a representative of the country's Shia Muslim Houthis in a dialogue for national reconciliation has been murdered and the convoy of a UN envoy trying to push forward the dialogue shot at.
Abdul Karim Jedban was shot dead by armed assailants on a motorbike on Friday as he left a mosque in the capital, Sanaa.
His death comes as gunmen fired shots at a convoy carrying the UN envoy to Yemen, Jamal Benomar, on Friday. No one was hurt in the attack, a security source told the Reuters news agency.
The source said guards escorting the convoy had opened fire on the attackers who then fled the scene.
Benomar is trying to push forward a dialogue on national reconciliation, part of a power transfer deal prompted by mass protests in 2011 that forced veteran president Ali Abdullah Saleh to step down after 33 years in office.