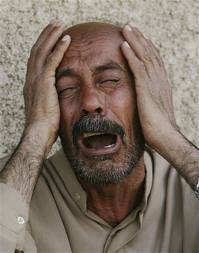 Iraqi men clean the rubble at the site of a blast that took place the previous day outside a cafe in Baghdad's Bayaa neighborhood on November 21, 2013 (AFP, Ahmad Al-Rubaye)
Iraq car bombing kills dozens north of Baghdad
At least 25 people have been killed in a car bomb attack north-east of the Iraqi capital, Baghdad, officials say.
The blast happened in a market in the town of Saadiya, in the religiously mixed province of Diyala.
The attack comes a day after at least 29 people were killed and dozens wounded in a series of bombings across the capital.
Sectarian violence has surged across Iraq in recent months, reaching its highest level since 2008.
The bomb went off at about midday (09:00 GMT) in a neighbourhood populated mostly by Shia Kurds, officials told the French news agency AFP.
Witnesses told police that the bomb was on board a truck of vegetables.
No group has claimed responsibility for the violence, but Sunni militants linked to al-Qaeda often carry out such attacks to undermine confidence in the Shia-led government.
Officials have voiced concern that the conflict in neighbouring Syria has emboldened these militant groups.
Up to 20 Britons 'killed fighting in Syria'
Security sources believe number of Britons to have died fighting with al Qaeda linked rebels is well in to double figures, amid concern over conflict's attraction for would-be jihadists
Mohammed El-Araj, from Ladbrooke Grove in West London Photo: The International Centre for the Study of Radicalistion
By Tom Whitehead, Security Editor, Ruth Sherlock in Beirut and Edward Malnick
8:47PM GMT 21 Nov 2013
Up to 20 Britons are believed to have been killed while fighting in Syria, many alongside terrorist or extremist groups, The Daily Telegraph understands.
The suspected death toll will fuel fears that the scale of Britons heading out to the war-torn country as would-be jihadists is far higher than previously thought.
Four Britons are understood to have been killed in recent months, but security sources believe the number that have died is now well in to double figures.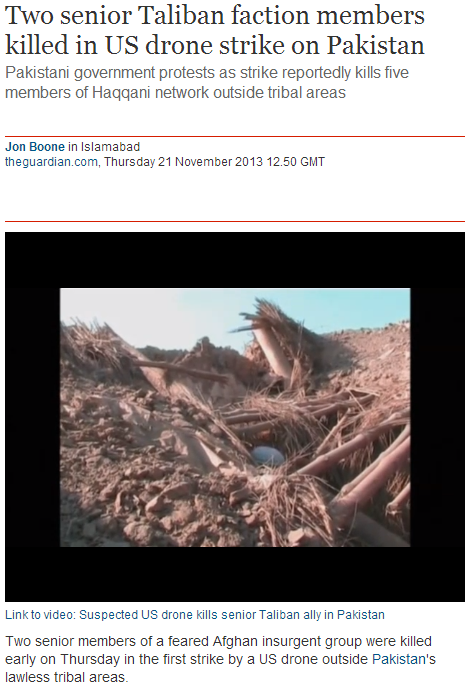 A Pakistani intelligence official claimed five people were killed by the early morning strike on a religious seminary in Hangu, a district bordering the Federally Administered Tribal Areas (FATA), where nearly all US drone strikes have taken place in the past.
Residents and police claimed three or four missiles were fired at a section of the mud-built madrasa just before 5am. The seminary's students, many of whom were sleeping in a nearby room, escaped unhurt.
The intelligence official, who asked not to be named, said all five killed were members of the Haqqani network, a militarily highly capable Taliban faction, including Mullah Ahmed Jan, a senior fundraiser known as the "minister of finance" and a close aide to the group's leader, Sirajuddin Haqqani. Jan's body was taken away for burial in North Waziristan shortly after the strike, according to witnesses.
Egypt policeman killed in operation to arrest militants
Egypt's security forces have increasingly become the target of militant attacks
An Egyptian police officer has been shot dead while trying to arrest suspects wanted over the killing of a security official, the interior ministry said.
Capt Ahmed Samir Mahmoud was killed during an early-morning operation in a town north of Cairo, the ministry said.
His team was chasing militants wanted over the killing of Mohamed Mabruk.
Mr Mabruk, an interior ministry official, was reportedly part of the crackdown on the Muslim Brotherhood.
Thousands of members of the Islamist movement have been detained since the army ousted President Mohammed Morsi in July.
On Thursday a court jailed 38 students from Cairo's al-Azhar university for taking part in a violent protest in October.