Poles are only a few decades from jack-boot thuggery.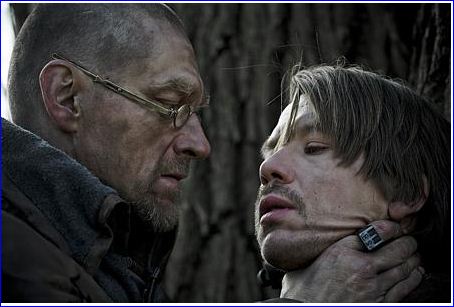 This is the type of strong arm, thuggish, totalitarian tactics one would expect from of a communist/socialist state, not a supposedly liberal democracy.
– The prosecutor gave me no choice. I would either confess that I had threatened Muslim groups in Poland and accept a one-year suspended prison sentence or be locked up for at least three months awaiting trial. Of course I wanted to go home to my job so I signed the confession. I was also fined 13,000 kronor [ca. 2000 USD, ed.], says Kamil Ryba.

But the plane had already left and the police didn't even offer to drive him back to Warsaw. Right now Kamil Ryba is at the home of a friend in Stettin waiting for new tickets.
The veil casts its long shadow over Swedish Islam-critic
Posted by: Ingrid Carlqvist 13 November, 2013
When Kamil Ryba, leader of the Swedish Defence League, had gone through pass control in the airport of Warsaw, he was thrown to the ground, handcuffed and dragged into a room where the security police was waiting.
– I was forced to confess that I had threatened Muslim groups on Facebook, says Kamil Ryba.
Kamil Ryba is a citizen of Poland but lives in Sweden and works in Norway. In his spare time he leads the Swedish Defence League, whose aim is to highlight the Islamic threat against Sweden and the West.
Last weekend he went to Poland to participate in the annual Independence March. The Poles have not forgotten the years under Communist rule so when the approximately 50,000 strong march passed the Russian embassy, a number of hooligans broke ranks and attacked the building. Kamil Ryba took some pictures but did not participate in the disturbance.
The following day he was arrested at the airport while trying to board his plane home. At first he thought the police was going to accuse him of taking part in the embassy attack. Little did he know that the reason for his arrest was a six months old comment on Facebook.
– Approximately ten police officers in four cars drove me to the city of Lodz 200 km. outside Warsaw. At the same time other policemen searched my mother's house, where among other things they took her computer, says Kamil Ryba to Dispatch International.
It was not until he was in the police car that Ryba was told what he was accused of – illegal threats against Muslim groups in Poland, which he had posted on Facebook last May.
– It all started when I criticized Muslim women in Poland who had arranged a hijab exhibition for non-Muslims. They claimed that wearing the veil is a voluntary decision but as I had read the Koran, I knew that it demands that women cover themselves.
The subsequent discussion was heated and Kamil Ryba admits that he wrote a number of less than well-considered comments, e.g., that he would personally tear the veil off of Muslim women unless they stopped lying to Poland's Catholic women.
– The following day I got several e-mails from Polish Muslims who wrote that they would kill me if I showed up in Poland again. I didn't report it to the police. If I were to report every single death threat I have received, I would have to spend three to four days a week at the police station.
But the Muslims went to the police, who had clearly been waiting for Kamil Ryba to come to Poland. He thinks they didn't arrest him on arrival because they wanted to see if he would commit offenses during the Independence March.