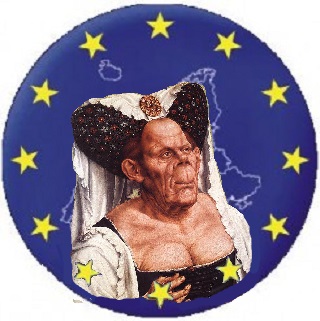 Police tried to spy on Cambridge students, secret footage shows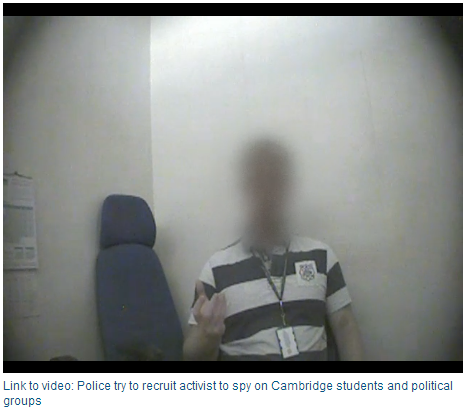 Officer is filmed attempting to persuade activist in his 20s to become informant targeting 'student-union type stuff'
Police sought to launch a secret operation to spy on the political activities of students at Cambridge University, a covertly recorded film reveals.
An officer monitoring political campaigners attempted to persuade an activist in his 20s to become an informant and feed him information aboutstudents and other protesters in return for money.
But instead the activist wore a hidden camera to record a meeting with the officer and expose the surveillance of undergraduates and others at the 800-year-old institution.
The officer, who is part of a covert unit, is filmed saying the police need informants like him to collect information about student protests as it is "impossible" to infiltrate their own officers into the university.
The Guardian is not disclosing the name of the Cambridgeshire officer and will call him Peter Smith. He asks the man who he is trying to recruit to target "student-union type stuff" and says that would be of interest because "the things they discuss can have an impact on community issues".
Disgraced German ex-president on trial on corruption charges
BY JAN SCHWARTZ
HANOVER, Germany Thu Nov 14, 2013 9:49am EST
(Reuters) – Christian Wulff on Thursday became Germany's first post-war president to go on trial, charged with corruption for accepting some 700 euros for a hotel stay and meals during an Oktoberfest beer festival when he was a state premier.
Once seen as one of the country's brightest political talents, Wulff served just 20 months as president before he resigned last year over accusations he accepted favors before he was elected president in 2010.
Wulff, 54, a former ally of Chancellor Angela Merkel, denied the allegations, saying he hoped to clear his name with a victory in court after rejecting an offer from state prosecutors to settle the case with an out-of-court payment.
In court, Wulff delivered a 50-minute statement in which he criticized state prosecutors for a case he called a "farce".
Swedes arrested in global child porn probe
Officers announced the arrests at a press conference in Toronto on Thursday. Photo: Toronto Police/YouTube
Published: 15 Nov 2013 07:13 GMT+01:00
Seven Swedes were among 341 people arrested on suspicion of being part of a global child pornography ring broken up following a three-year-long operation, police in Canada announced on Thursday.
The operation, dubbed Project Spade, was launched in 2010 and has also resulted in 386 children being rescued from sexual exploitation, Toronto police said in a statement.
The Sweden arrests were confirmed by Björn Sellström, head of the child pornography unit at Sweden's National Bureau of Investigation (NBI).
"We've filed around ten reports that have led to seven arrests," he told the Aftonbladet newspaper.
He added that the arrests didn't take place in a coordinated fashion, but were carried out over time by police departments in various Swedish counties as new information arrived from police in Canada.
The probe began in October 2010 when undercover police in Toronto made contact with a man who was allegedly sharing images of child sex abuse.
The investigation revealed the man, 42-year-old Brian Way, ran a company, Azov Films, that allegedly produced child pornography movies and then sold them online.
He has since been charged with several crimes, including possessing and distributing child pornography, as well as instructing the commission of offence for criminal organization, the first time someone in Canada has been charged with such an offence in connection with a child sexual exploitation case.