TREACHERY, not a mention of Islam or Muslim in the entire piece.
Here's another scoundrel who should be tossed into the hoosegow for crimes committed against the British people, as well as the other gaggle of lefty boobs that sold the state down the river.
NOTE: It wasn't just 'eastern European immigrant', but whole hordes of Muslims from the Middle East and Northern Africa that are changing the makeup of the UK more than any Pole or Hungarian ever could, or would, for that matter.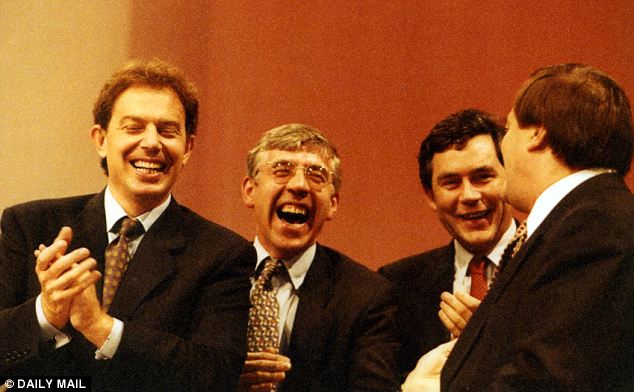 A spectacular mistake on immigration: Straw finally admits Labour 'messed up' by letting in one million East Europeans
Former Home Secretary said the party's 2004 decision to hand immediate working rights to migrants from other EU states was a mistake
Admission in his local paper is furthest any Labour minister has gone

His successor David Blunkett also warned Roma migrants could cause riots
Government had predicted influx of 13,000 a year – 1m came in a decade

By JACK DOYLE
PUBLISHED: 22:45 GMT, 12 November 2013 | UPDATED: 00:45 GMT, 13 November 2013
Jack Straw has admitted that throwing open Britain's borders to Eastern European migrants was a 'spectacular mistake'.
The former Home Secretary said Labour's 2004 decision to hand immediate working rights to Poles and migrants from other new EU states was a 'well-intentioned policy we messed up'.
His comments emerged on the same day as his successor as Home Secretary, David Blunkett, warned that the influx of Roma migrants into Britain risked causing riots.
Mr Blunkett's comments reinforced the significance of Mr Straw's admission about Labour's failure to anticipate the scale of migration when eight former Soviet bloc nations became EU members, and Britain – almost alone in Europe – allowed the free movement of workers between countries.
At the time, the Government predicted up to 13,000 migrants would come to Britain each year. The actual total over nearly a decade was more than a million.
Virtually every other EU state, apart from Ireland and Sweden, kept their jobs markets closed for the seven years permitted.

In an article for his local paper, the Lancashire Telegraph, Mr Straw – who is MP for Blackburn – admitted the forecasts were 'worthless'.

And he accepted the 'social dislocation' which can be caused when 'large numbers of people from abroad settle in a particular area'.
Mr Straw said: 'One spectacular mistake in which I participated (not alone) was in lifting the transitional restrictions on the Eastern European states like Poland and Hungary which joined the EU in mid-2004.