The worst she did was to start late.
It's why I refer to the post-Zionist rag as the Hahahaaretz, it just can't be taken seriously.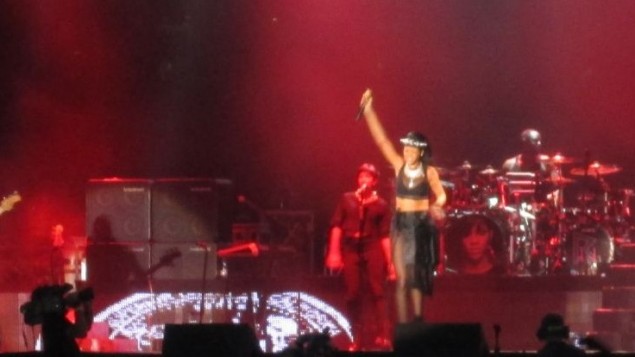 Mens rea at Ha'aretz
Brian of London
Israeli newspaper Ha'aretz published a false account in English of a concert by international superstar Rihanna in Tel Aviv this week. Hours later, and after featuring the mistake in a headline on the front page of their printed English paper, they withdrew their claim ($ pay wall).
Their report claimed the singer said the word "Palestine" in a song. Some of the world's major news blogs which repeated the claim, like the Huffington Post, have now amended their coverage to reflect Ha'aretz's retraction. The story swept across the Arab world and the majority of those sites have not withdrawn the false report.
Ha'aretz's coverage of Rihanna's concert in Tel Aviv contained two unique claims not presented in any other coverage of the concert:
Rihanna deliberate

changed one of the lyrics of her song "Pour it up" to replace "All I see is dollar signs" with "All I see is Palestine."
By repeatedly addressing the crowd as "Tel Aviv", and not Israel, Rihanna was making some sort of political statement.

The first claim has been completely withdrawn with an apology. The second still stands in the article.

Thus far I present only facts. Time for opinion: this is MY opinion piece, I only mention this because we have a few people still unable to tell the difference between news and opinion. I am not in the employ of The Times of Israel, I'm one of their thousands of bloggers.

The second claim is the smoking gun. It's the big, important one. It's possible to mishear a rhyme: it happens all the time.

The second is the one I highlighted at Israellycool yesterday.

Let's walk through what happens for these two tandem claims to make it into print and we'll see epic journalistic failure coupled with a devotion to inserting Palestine into any story they can.