This could also be a line spun by the NSA to detract from the damning revelations.
I had a long talk with Vlad about this very subject, in discussing whether or not Snowden is a traitor/hero or not. VI agree with Vlad, we can't jump to conclusions ( Diana West's view as well) we have to wait until all the facts are in.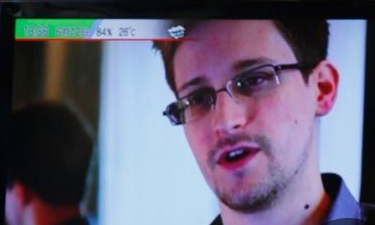 Edward Snowden: Whistleblower or double agent?
Published June 14, 2013
FoxNews.com
While some initially championed Edward Snowden, the 21st century mole holed up in Hong Kong, as a martyr, there also appears to be a growing backlash against the former NSA contractor. And as the story slowly unfolds, one key question stands out: is Snowden the heroic whistleblower he claims to be or something more sinister?
During one of his first newspaper interviews, when he spilled national security secrets, Snowden called himself "just another guy who sits there day to day in the office." But now some are questioning his motives and wondering whether claims that he wanted to right a perceived wrong are true — or whether he could be a modern-day double agent, cleverly hiding his actions and painting himself as a victim of the U.S. government while working as an agent for the Chinese.
Gordon Chang, author of "The Coming Collapse of China," thinks there's a strong possibility Snowden could be playing for both sides.
"The first clue is that he goes to Hong Kong and they have an extradition agreement with the U.S. and a tradition of close cooperation of law enforcement," Chang told Fox. "That means, the only thing that stands between him and a lifetime in a super-max prison is Beijing."
Chang also says the timing of Snowden's disclosures are suspect.
"He changed the global narrative of China hacking into the U.S. to the American government going after one of its own," Chang said.