The way UK leaders have been responding thus far, tells me that the tipping point is close at hand.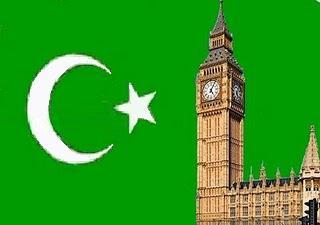 Britain is in denial. There is no real public debate on a historic event that is transforming the country. Mention of it occasionally surfaces in the media, but the mainstream political class never openly discuss it.
What is that historic event? By the year 2050, in a mere 37 years, Britain will be a majority Muslim nation.
This projection is based on reasonably good data. Between 2004 and 2008, the Muslim population of the UK grew at an annual rate of 6.7 percent, making Muslims 4 percent of the population in 2008. Extrapolating from those figures would mean that the Muslim population in 2020 would be 8 percent, 15 percent in 2030, 28 percent in 2040 and finally, in 2050, the Muslim population of the UK would exceed 50 percent of the total population.
Contrast those Muslim birth rates with the non-replacement birth rates of native Europeans, the so called deathbed demography of Europe. For a society to remain the same size, the average female has to have 2.1 children (total fertility rate). For some time now, all European countries, including Britain, have been well below that rate. The exception is Muslim Albania. For native Europeans, it seems, the consumer culture has replaced having children as life's main goal.
These startling demographic facts have been available for some time (see 'Muslim Population "Rising 10 Times Faster than Rest of Society"', The Times, 30 January 2009. Also the work of the Oxford demographer David Coleman). But on this historic transformation of the country there is silence from the political establishment.
Not everyone agrees with these demographic figures. Population projection, some say, is not an exact science. Perhaps the Muslim birth rate will drop to European levels.
But this seems to be wishful thinking. For years it was believed that Muslims would enter what is known as "demographic transition", with European Muslim birth rates falling to native European levels. But that demographic transition has not happened. In Britain, for example, the Pakistani and Bangladeshi communities continue to have significantly higher birth rates than the national average, even after more than 50 years in the country.