Time to leave Afghanistsan, with only drone strikes and occasional "boots on the ground" to either snatch or kill wanted terrorists and to destroy jihadi training camps.
Weasel Zippers was live blogging, action over:
Final count was seven attackers killed-two with suicide vests, five by police/military response. No other casualties, some damage to a tent-like hanger structure.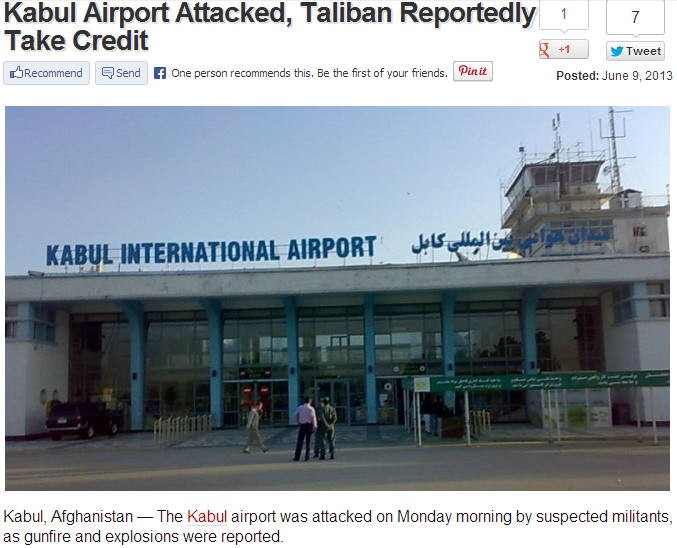 The attack was launched shortly after dawn by suspected suicide bombers. At least one large explosion was heard around 4:30 am local time, followed by a gunbattle with security forces.
The attack happened on the military side of the city's international airport, which is home to a NATO headquarters, according to the Afghan army and police.
The airport has been closed to all civilian air traffic until further notice after the attack. The Kabul police announced that attackers were wearing suicide vests. They occupied a tall building on the airport's west side and were firing at the military facility below.
Reports have also said that all diplomatic areas of the airport have been placed on lockdown, along with the civilian side of the airport. Insurgents were apparently targeting the US Air Force and narcotics areas of the Kabul airport.
Another report stated that the US embassy in Kabul sounded its "duck and cover" alarm, adding on loudspeaker that it was not a drill. Kabul's police chief Hashmat Stanikzai, stated, "It's an ongoing gunfight and blasts, and I can tell you that it's a suicide group attack." He added:
"Several armed men have attacked the western part of the Kabul airport. It started with a huge bomb explosion and heavy gunfire.