What the hell?!!!!
Real of not, the toad should be kept far from any playground.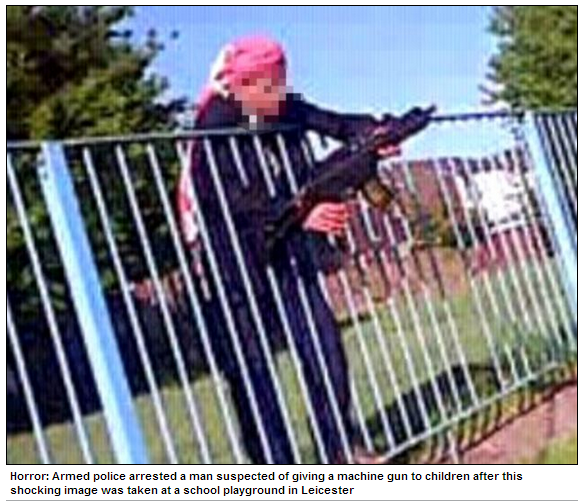 Playground horror as man pictured showing off suspected machine gun to children before giving it to eight-year-old boy to hold
'Ashamed' parents didn't believe children when told of incident in Leicester

But gravity of horror became clear after one mother was sent snap of the incident the following day


Police surrounded playground and swooped on 57-year-old suspect

They later seized a number of imitation guns near school
By DAILY MAIL REPORTER
PUBLISHED: 09:58 GMT, 8 June 2013 | UPDATED: 16:19 GMT, 8 June 2013
Armed police arrested a man suspected of giving a machine gun to children after this shocking image was taken at a school playground.
'Ashamed' parents ignored youngsters' revelations that a man with a gun had been in the Morton playground, Leics, and dismissed their children's stories.
The next morning a mum-of-three was sent this harrowing picture – apparently taken at the park at about 6pm the previous day – showing a man brandishing an automatic gun.
Read more: H/T Always Watching