Yes, we have bears every where.
What immediately came to mind was Vlad's French translator, on the loose in Finland?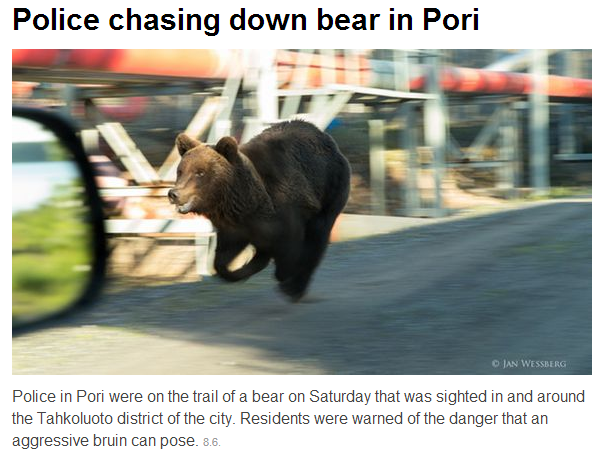 YLE: The full-grown bear was first sighted during the morning hours of Saturday swimming in the waters of Pori's oil harbour at Tahkoluoto.
Police said on Saturday afternoon that according to witnesses, the bear had left the fenced harbour area and was seen along a raod leading towards the city centre, not far from a camping ground.
Dogs trained for bear hunting and experts from the local fish and game association were taking part in tracking down the animal.
By early evening, it was thought that the bear was heading away from Tahkoluoto, swimming to small islands to the north from where it could reach the mainland and move away from inhabited areas.
The public has been instructed to stay away from the area while the search continues. By late in the day, Police said that while the bear could still pose a threat, the situation was no longer considered acute.