The US couldn't leave that hell hole soon enough.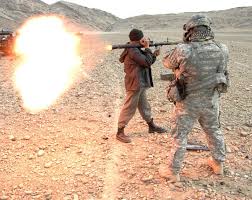 Afghan Insider Attack Kills Three Americans
Nato says a man wearing an Afghan army uniform turned his gun on his trainers in the latest green-on-blue attack in the country.
Three Americans – two soldiers and one civilian – have been killed in an insider attack in eastern Afghanistan, officials said.
Nato said in a statement that a man in an Afghan army uniform had turned his weapon on the international trainers.
The shooting in Paktika province is the latest in a string of attacks in which infiltrators or disgruntled Afghan police or soldiers have killed international troops working with them.
The killings threaten to shake the confidence and trust of the two sides as withdrawal of most international troops approaches in 2014.