No surprise, just about everything he says the minute he opens his mouth are nothing but lies.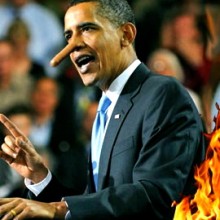 "This bill would provide a pathway to earned citizenship for the 11 million individuals who are already in this country illegally–a pathway that includes passing a background check, learning English, paying taxes and a penalty, and then going to the back of the line behind everyone who's playing by the rules and trying to come here legally," Obama said.
While that claim would quell a lot of criticism of the bill if it were true, it simply is not accurate.
As Breitbart News has previously reported, when illegal immigrants apply for "registered provisional immigrant" status under the provisions of the bill, the first step in legalization, they do not need to demonstrate that they can speak English. When they apply for renewal of their RPI status, they still do not need to prove they can speak English.
Only when illegal immigrants apply for their "legal permanent resident" status, or green card, would they be required to demonstrate their ability to speak English or prove that they are currently enrolled in a course "to achieve an understanding of English and knowledge and understanding" of civics.