This is the mentality of the Left, extreme libertarians and Muslims in general.
Not only do the family, relatives and friends of the brutally murdered man have to cope with Rigby's death, they have to cope with the morons making hash with details surrounding his murder in broad daylight in the center of a city street.
NOTE: Yeah, no blood at all…..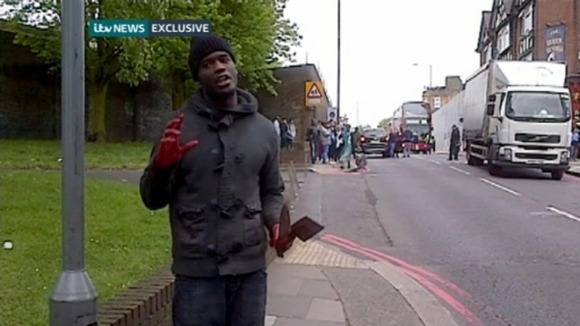 'These women seem very traumatised LOL': Sickening video circulated by university Islamic Society claims Lee Rigby murder was a hoax
Video posted on YouTube by London Metropolitan University group

Film claims that Lee Rigby's death was a conspiracy and used 'fake blood'

Six-minute video named 'Woolwich false flag b*******' seen by 300,000 people

LMU considered banning alcohol on campus as it might offend Muslims

By MARTIN ROBINSON
PUBLISHED: 16:04 GMT, 3 June 2013 | UPDATED: 17:43 GMT, 3 June 2013
An Islamic Society at one of Britain's largest universities has promoted a video claiming the execution of Drummer Lee Rigby in Woolwich was a hoax cooked up by the state, it was revealed today.
Hours after the death of the soldier, 25, a Muslim student group at London Metropolitan University (LMU) circulated a YouTube film arguing the crime was manufactured using 'fake blood'.
The six minute video called 'Woolwich false flag b*******. Masses are in a state-sponsored trance', has been viewed by 300,000 people, and says that Scotland Yard detectives investigating the murder were Freemasons who were in on an anti-Muslim conspiracy.
The film even claims that traumatised witnesses were in on a hoax, taunting those who tried to comfort Drummer Rigby as he lay dying by saying: 'These women look very traumatised lol (laugh out loud).'
London Metropolitan University has previously admitted it would consider ending the sale of alcohol on campus in case it offended Muslim students.