Utterly detestable.
This is what has become of a UK ruled by a series of Leftist and Tory elitist governments, enforcing political correctness to protect their political nightmare societal achievements. It's now a land overflowing with self styled "race detectives" (in and out of government/police depts.) stamping out every existing form of freedom of expression, where a person can't even openly pronounce a love and affection for the very values and freedoms that helped build and secure that once proud nation.
Also, I don't buy the argument about the validity of anything hanging solely on the bare thread that…. no one finds it "offensive". The truth much of the time can be very offensive, are we to reject truth because the truth sometimes causes people mental anguish? Just how far down that communist hellhole are people willing to crawl in order not to cause "offense"? Sheeeesh the stupidity of it all.
NOTE: In the American context, it would be as if a shop owner was forced by the local police to remove a t-shirt that read: "America, Love it or Leave it".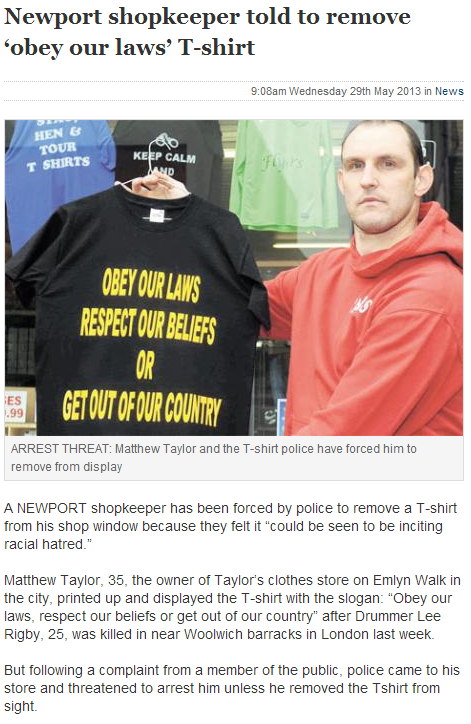 Mr Taylor said: "I had a visit from two CSOs (community support officers) because it has been reported by someone who felt it was offensive.
"It's not meant to be offensive.
I didn't produce it to be offensive. It's what I believe.
"At the end of the day if you don't like the way a country is run and don't like our beliefs then go somewhere else, don't go killing people.
H/T: EDL Buck