It's not about "interpretation", but about implementation.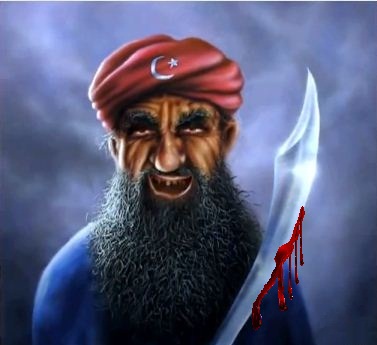 Both are wrong. Ben, there is no such thing as "Islamism", there is only Islam. The duality embedded within Islam leads many to cast their attention only upon the Meccan portion of the koran, though it's been abrogated by the later intolerant, violent portion from Medina .
All of Western logic is based upon the law of contradiction—if two things contradict, then at least one of them is false. But Islamic logic is dualistic; two things can contradict each other and both are true.

No dualistic system may be measured by one answer. This is the reason that the arguments about what constitutes the "real" Islam go on and on and are never resolved. A single right answer does not exist.
NOTE: Anyone reading the koran and analyzing the mindset of Mohamed, will come to understand that the brutal beheading of Lee Rigby in Woolwich England, would have been met with glowing approval by the founder of Islam.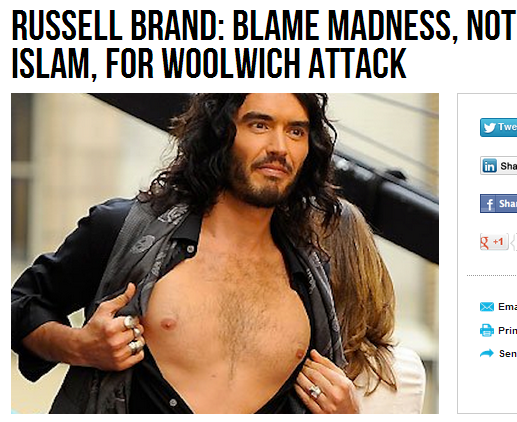 Nutty British star Russell Brand took to the pages of The Suntoday to pretend that there is no relationship between radical Islam and the murder of British soldier Lee Rigby by Islamists in Woolwich. Brand tweeted within hours of the murder, "That bloke is a nut. A nut who happens to be Muslim. Blaming Muslims for this is like blaming Hitler's moustache for the Holocaust."
Actually, Russell, it isn't. Blaming Islamism for what happened to Lee Rigby is sort of like blaming Nazism for the Holocaust. In other words, it's accurate. But Brand believes that only the insane take murderous action. "In spite of his dispassionate intoning the subject is not rational," licensed psychiatrist Brand wrote in The Sun. "Of course he's not rational, he's just murdered a stranger in the street, he says, because of a book. In my view that man's severely mentally ill and has found a convenient conduit for his insanity – in this case the Koran."
Brand actually compared the Islamist murderers to John Lennon's murderer, Mark Chapman, who said he was inspired by The Catcher in the Rye. Neither book, said Brand, could be linked with murder. "I've read that book and I've read some of the Koran, and nothing in either of them has compelled me to do violence," wrote Brand.
More here.