The ranks swell, people have had enough with Islam.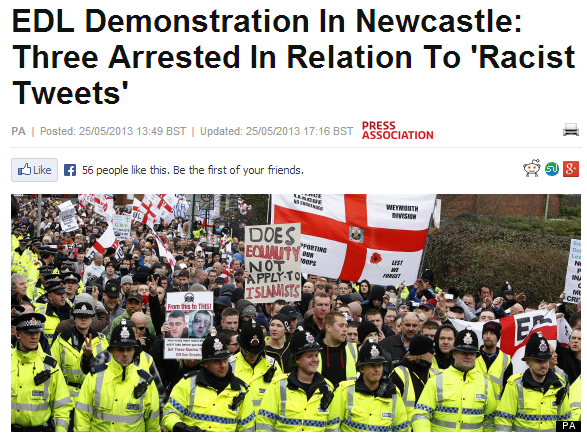 Several hundred EDL protesters gathered on the steps of St Mary's Catholic Cathedral in Newcastle on Saturday, singing "I'm English til I die" and tooted by passing van drivers.
Police were present in large numbers watching the demonstration grow. Chants of "Whose streets? Our streets" rang out from the EDL supporters. They followed it by singing "RIP Lee Rigby." Some demonstrators had their children with them.
Around 1,500 people took part in the EDL march, Northumbria Police said. Earlier this month it was predicted that 500 would turn up. Flags from Teesside, Coventry and Bournemouth were on display, along with one marked Taliban Hunting Club.
Police arrested three people ahead of an EDL protest for allegedly making racist tweets.
Northumbria Police said two people from Gateshead and a third from Stockton, Teesside, were held earlier. The EDL has planned their demonstration for months, but the horrific murder of Drummer Lee Rigby in Woolwich on Wednesday has heightened tensions in the local community.