When a member of the Islamic version of the Stepford Wives raises the ante to stem further criticism of their cult.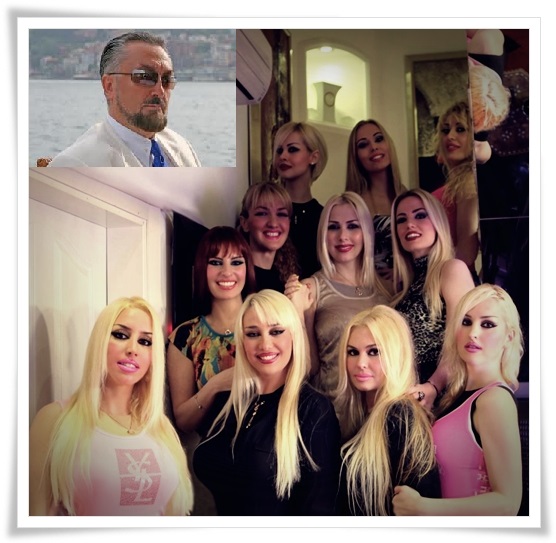 Sugar coated poison with forked tongue.
I have heard exactly that about the Cult of Oktard, you manage to get under their skin by pointing out the glaring inconsistencies in their highly fallacious/disingenuous  argumentation, and they'll level veiled, or not so veiled, threats in your direction.
Lisa Michelle, a conservative pro-Israel activist who has been at the forefront (among other stalwart voices) in unraveling the lies surrounding the Oktard putsch in trying to get a toe within the pro-Israel camp. They'll use any form of twisted logic to try and win Jews and Christians into backing their Jim Jones cult-like movement.
Lisa sent me the following screen capture of Aylin Kocaman's threat, in a post (now offline) at Israeli Frontline's FaceBook page: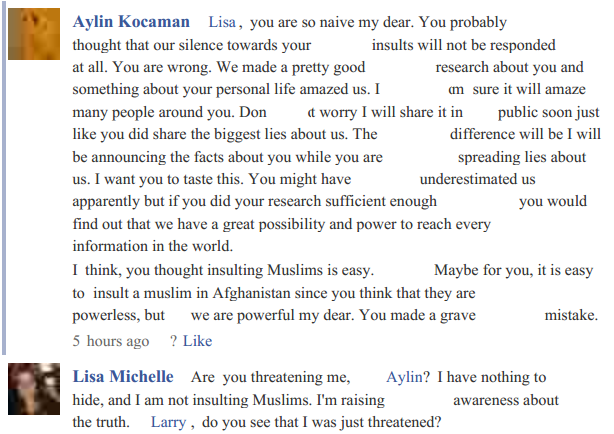 Last month, Dr.Andrew Bostom, over at the Jewish Press took the time to Fisk and debunk yet another screed from a member of the Islamic Stepford Wives  pool of Oktard's, Sinem Tezyapar. Sam Westrop has a site dedicated in debunking the crazed sex-cult as well, I recommend anyone interested to check out Sam's pdf report on the cult.
The bottom line here is, you can't trust a movement, in this case a bona fide cult of the Muslim extract, that uses outright lies and obfuscations to explain its philosophy, and then uses open threats to intimidate those  who are  conducting unwanted scrutiny of their claims. This is a wake up call to those fence sitters, some of who are mesmerized by their inflated chests, not to be fooled.