More Swedish Intifada News:
According to Vasarahammer (h/t) : the Finnish media (even more so than the Swedish media)  are going out of their way in not reporting the exact ethnicity/identity of the perp in custody. Do you now understand why people have become entirely suspicious of the legacy media, where ever it calls home?
Again, according to Vasarahammer, who forwarded the link to the Swedish blogger's post who names the perps arrested: the "Finn" is named as Ahmed Abdullrahman , 18, ​​ as well as Mohamed Mahad Omar , 19.
H/T: Vasarahammer
NOTE: When you look at the smaller size picture of the perp (embedded by me in the IL article pic, you realize it's not a traditional lily white Finn in question.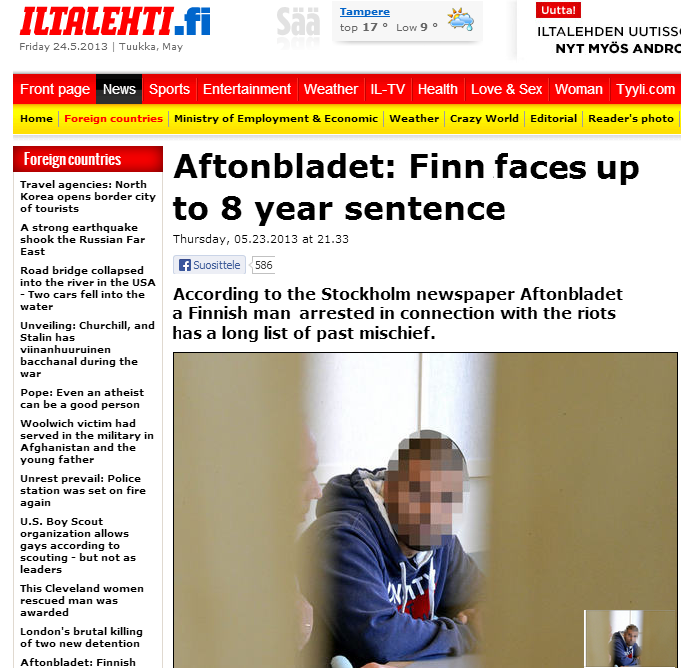 One person jailed in Stockholm suburb riots, a 18-year-old Finnish man.
A 18-year-old citizen of Finland is the only person  imprisoned in recent days in connection with the riots. The man is suspected among other things, of arson.  The police took him a little before midnight on Tuesday,  in Husby.
According to Aftonbladet the man has a large number of previous offenses. Last February, he was convicted of theft and a drug-related crime. Previous convictions, the list is a number of robberies and aggravated assaults. Three times he has been convicted of assaulting an official, and eight times for the intimidation of an official.
More here in Finnish. Original source: Aftonbladet.