Shades of Norway…….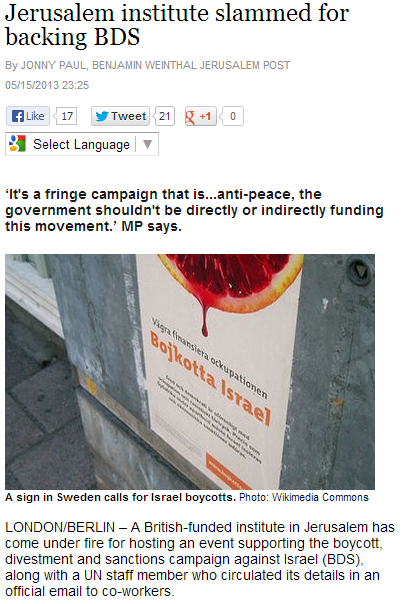 In March, the Kenyon Institute, also known as the British School of Archaeology, hosted an event titled "The emergence of the boycott, divestment and sanctions movement" – a campaign led by radical anti-Israel activists also known as BDS – at its East Jerusalem headquarters.
The institute is funded by the British Academy which in turn is funded by the British Government and questions have been raised as to why taxpayers have ultimately funded the controversial event.
Charles Tannock, a Member of the European Parliament, toldThe Jerusalem Post: "I totally oppose the promotion, by a UK taxpayer-funded organization such as the British Academy, of events which aim to promote a 'campaigning boycott, divestment and sanctions' anti- Israel event which is aimed at sanctioning a close friend of the UK and a democracy such as Israel."
"It's equally unacceptable a UN official should be promoting this event through his official email address suggesting possible UN endorsement of this message."
"The Israeli Foreign Ministry should raise this urgently with the British Ambassador to explain how this happened," he said.
Pauline Latham, MP and member of the Department for International Development Select Committee, told the Post: "The British Government has been very clear that it does not support the boycott movement.
It is a fringe campaign that is inherently anti-peace, perpetuating divisions between Israelis and Palestinians and doing nothing to bring the two sides together in a compromising way."