I'll keep repeating what Mark Levin says, this has to end with the IRS being disbanded, not papered over with cosmetic "fixes".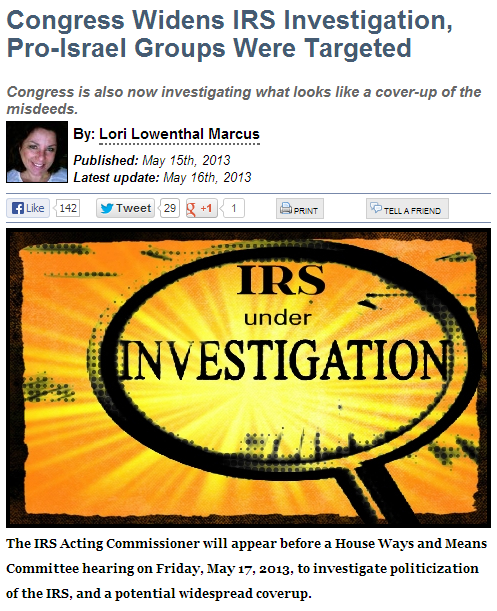 The chairman and the ranking committee member of the U.S. House Ways and Means Committee released a letter the committee sent today, May 14, to Steve Miller, Acting Commissioner of the Internal Revenue Service.  That letter informs Miller that the committee has greatly expanded the scope of its investigation into alleged misdeeds by the IRS.
Among other information that congress is now seeking is information about the IRS's special scrutiny of organizations whose mission involve Israel.
Last week The Jewish Press connected the admitted increased scrutiny of certain conservative organizations by the IRS, and the alleged targeting by the agency of Z STREET, a pro-Israel organization.  That activity gave rise to a lawsuit filed against the IRS in 2010. (This reporter is the president of the organization that brought that lawsuit.)
Congressmen Dave Camp (R-MI)  and Sander Levin (D-MI) signed a 3 page, single space, 13 point  letter today, making clear that congress was greatly displeased with the lack of candor and responsiveness the IRS has displayed towards their committee's now-nearly two year long investigation of the agency.
In addition to seeking information about the IRS dealing with organization's whose mission deals with Israel, the Ways and Means Committee is also seeking information about any other kinds of organizations the IRS chose to scrutinize based upon those organization's political views.
The tone of the letter makes clear that Acting Commissioner Miller is in for a grueling hearing this Friday.  The congressmen use euphemisms, but what they are accusing the IRS of doing was lying to the Committee, repeatedly – either by commission or omission – about actions it has now admitted taking.  Now they want to know, essentially, who decided that the committee would be told lies, and how far up the chain of command did the lying go, in addition to the underlying inappropriate conduct.