Happening anywhere else in the developing world, this would be labeled as imperialist colonialism. That it happens within the West, it's called "multiculturalism and is to be applauded.
No country can withstand such an influx of people in such a short period of time. what we are witnessing here. as in the case of the U.S. as well, is the complete breakdown of the civil society. With each new sub group of immigrants and illegal aliens entering the country to compete, not co-exist, with the indigenuous population, there is no integration leading to assimilation, but the balkanization of anD fragmentation of that society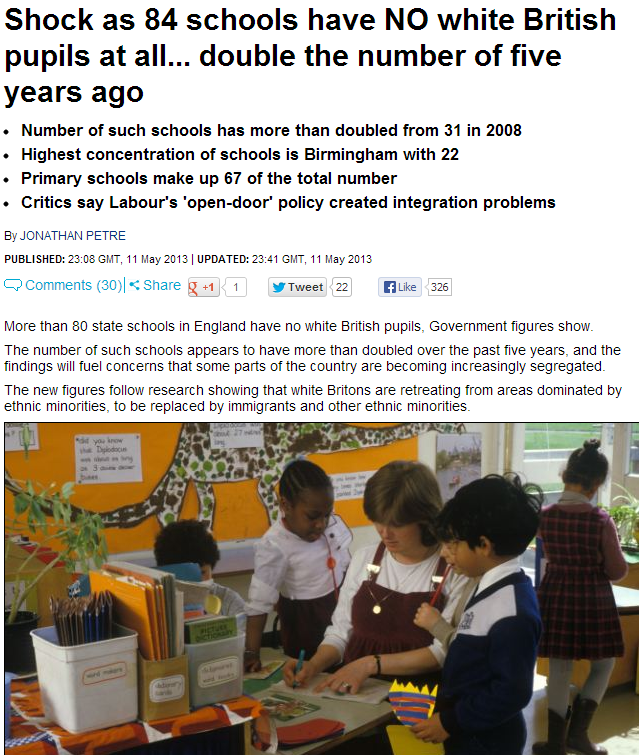 Critics said that the previous Labour Government's 'open-door' immigration policy had created 'huge' problems for integration, which was now threatening the country's social cohesion.
The Department for Education figures, revealed in a Freedom of Information request, show that 84 schools recorded last year that no pupils on their rolls were white British. Of those, 67 are primaries, eight secondaries and the remainder special or pupil referral units.
The statistics, derived from the annual school census, found that the highest concentration is in Birmingham, with 22 such schools, followed by Oldham with eight, Leicester with seven and the London borough of Tower Hamlets with six.
Other local authority areas in which there are at least two schools with no white British pupils include Blackburn with Darwen, Bradford, Lancashire, Rochdale, Surrey, Walsall and Worcester, as well as the London boroughs of Brent, Ealing, Harrow, Hillingdon, and Southwark. The schools, which were not named, are likely to include England's 11 state Muslim schools, three state Sikh schools and one state Hindu school.
One school that is understood to have no white British pupils is Gladstone Primary in Peterborough, which is dominated by students from the Punjab, with smaller groups from Afghanistan and Lithuania. None of its 440 pupils has English as a first language.