There's a whole laundry list of possible suspects for this act of terror.
Video H/T: Vlad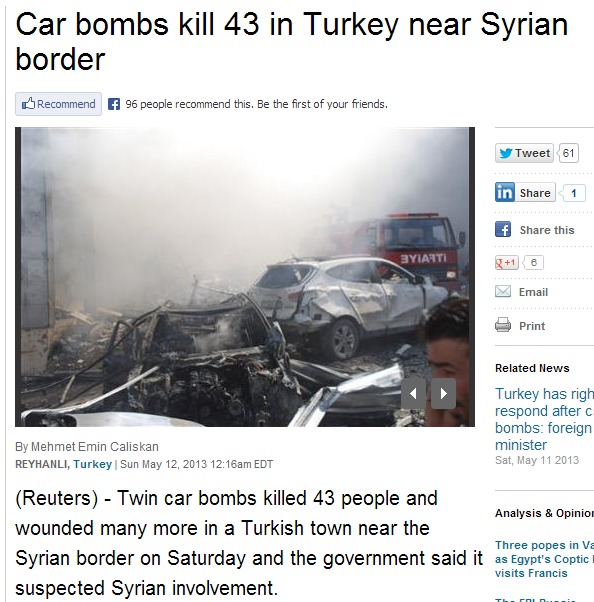 The bombing increased fears that Syria's civil war was dragging in neighboring states despite renewed diplomatic moves towards ending two years of fighting in which more than 70,000 people have been killed.
The bombs ripped into crowded streets near Reyhanli's shopping district in the early afternoon, scattering concrete blocks and smashing cars in the town in Turkey's southern Hatay province, home to thousands of Syrian refugees.
Restaurants and cafes were destroyed and body parts were strewn across the streets. The damage went at least three blocks deep from the site of the blasts.
President Bashar al-Assad's government was the "usual suspect", Turkish Deputy Prime Minister Bulent Arinc said.
"We know that the people taking refuge in Hatay have become targets for the Syrian regime," Arinc said in comments broadcast on Turkish television. "We think of them as the usual suspects when it comes to planning such a horrific attack."
Another deputy prime minister, Besir Atalay, was quoted by NTV as saying initial findings suggested the attackers came from inside Turkey, but had links to Syria's intelligence agency.
There was no immediate claim of responsibility. Nor was there any comment from Damascus.