Israel demonizers are strange bedfellows.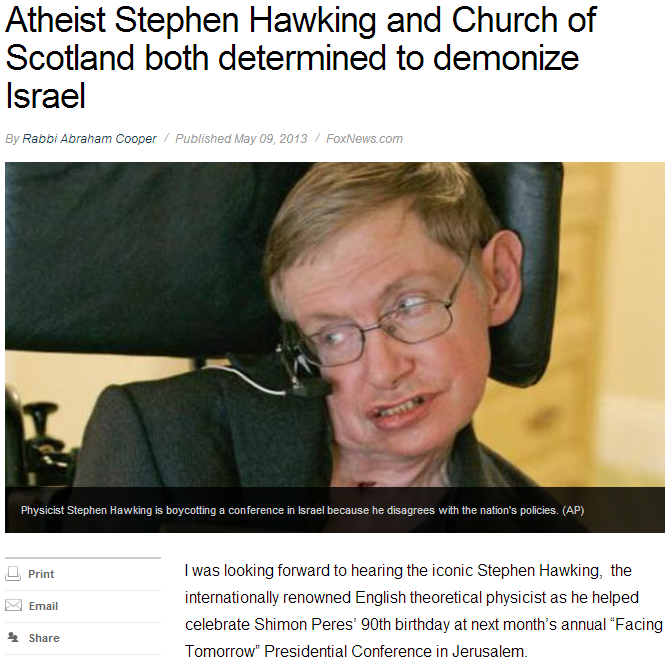 […]
After agreeing to deliver the coveted keynote in Jerusalem, the highly unorthodox Hawking, who has visited Israel four times, has caved to the prevailing virulent anti-Israel orthodoxy among the United Kingdom's elite and announced he'll boycott because of Palestinian protests.
It's interesting that Hawking, who is a principled atheist, has some kindred souls among theologians of the Church of Scotland.
In their spiritual wisdom, the Church will vote on a report next week entitled: "The Inheritance of Abraham? A Report on the 'Promised Land.'"
It questions the notion that the Bible "supports an essentially Jewish state of Israel." The report alleges that "increasing number of difficulties and current Israeli policies regarding the Palestinians," and challenges this viewpoint.
"Possession of any land is clearly conditional," we are told. "The question that arises is this: Would the Jewish people today have a fairer claim to the land if they dealt justly with the Palestinians?"
Biblical promises about the land of Israel were never intended to be taken literally, or as applying to a defined geographical territory, the report argues.
Instead, it said: "They are a way of speaking about how to live under God so that justice and peace reign, the weak and poor are protected, the stranger is included, and all have a share in the community and a contribution to make to it.