I believe that were there are the greater concentration of Muslims placated by the state, you'll see a greater concentration of people more interested in SD politics. Abandoned by the big parties, the people will turn to a party who will listen to them.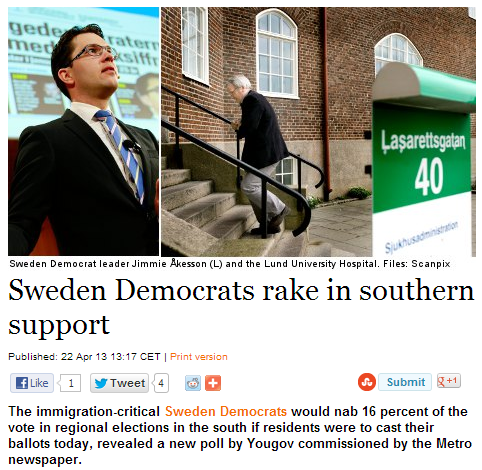 "In Malmö, our membership numbers are up by 30 percent in the past six months," Sweden Democrat Malmö municipal district chairman Jörgen Grubb told The Local. "We see a general increase so it doesn't surprise me that support has gone up regionally."
Neither did the new poll result surprise observers who are traditionally critical of the Sweden Democrats.
"Skåne has traditionally been their strongest stronghold, so it's not surprising their support there is above the national average," Alexander Bengtsson, deputy CEO of the magazine Expo, which covers nationalism and racism, told The Local.
Some commentators reacted to the news on Monday by saying the Sweden Democrats may be gaining ground in Skåne due to the widespread discontent in the region at how the healthcare system was being run.