Just what is Obama doing about it? Bupkis.
Hezbollah is expanding its global operations, especially in South America, and U.S. efforts to stop the terrorist group are falling short, a U.S. lawmaker has said, placing partial blame for the situation on Europe's unwillingness to classify Hezbollah as a terrorist organization.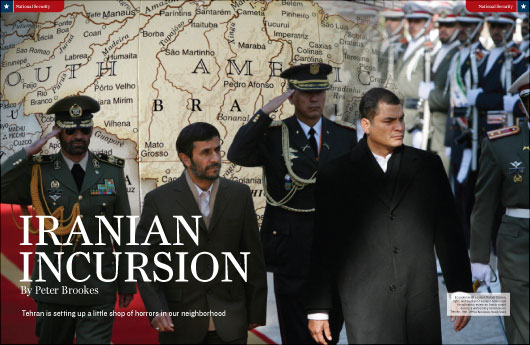 THE GROWING IRANIAN THREAT IN THE AMERICAS
By Shabnam Assadollahi
Ottawa – The Islamic Republic of Iran's infiltration in the US, Canada and South American countries started in early 90s as the Ayatollah Rafsanjani came into power and spread terrorism abroad. We need to stop the growing threat of the IRI  in Canada and the US.
Immigration is a big issue. If we cannot look carefully and extensively into people's background, we cannot really have meaningful and reliable security checks. After all, how much good is closing down the Embassy in Canada, if hordes of essentially unscreenable people are entering Canada from Iran aside from those already active in Canadian soil.
The first step is to understand the nature of terrorist regimes and how they use infiltration of other societies in orderto achieve their goals. The IRI as a terrorist regime has used this policy since its foundation.
IRI Infiltration among opposition groups, deploying individuals acting as regime opponents who in fact are nothing but the IRI's mouthpieces makes it more important for the US and Canada to have such apologists and lobbyists identified.
It's not difficult to find these pro IRI organized network groups; all it takes is investigation into some past terrorist acts. For example. the assassination plot against the Saudi Arabian ambassador which was foiled in New York in 2011 and this network of pro IRI lobbyists orchestrated a very organized PR campaign to raise doubts over the fact that the arrested individual could have  been a potential terrorist and that the entire story demonstrated it as a political game, propaganda to put more pressure on the Regime in Tehran. As we know, the arrested individual had admitted all charges later in 2012. This is but one of many examples of how we can assess the risk posed by infiltrators in the US and Canada's .