Muslims and the Left are howling for blood.
Sounds like to me a great time to crack open the facts and let her and others expose them for what they are on an even larger stage. The Muslims crying foul are doing Rossman-Benjamen and the rest of us who expose these groups, a mighty big favor. They can't stand up to too much scrutiny and the facts are on our side.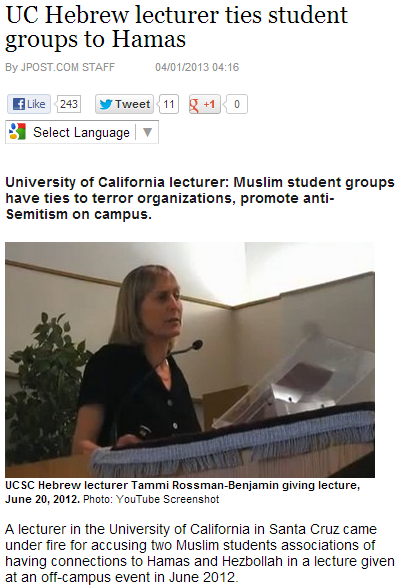 In a video posted on YouTube in February 2013, lecturer Tammi Rossman-Benjamin, who teaches Hebrew at UCSC, is shown addressing a crowd at Temple Ahavath Torah.
Benjamin is shown describing students from the Muslim Students Association and Students for Justine in Palestine as often being foreign students arriving at American universities from Muslim countries where they are "fed on a diet of anti-Semitism."
She accuses these student groups of having strong ties to terrorist organizations Hamas and Hezbollah, as well as the Muslim Brotherhood, and adds that they take part in international campaigns to demonize and illegitimize Israel.
"The MSA and SJP students have forcefully promoted their message on campus and in most cases there has been little resistance. As a result of the sheer quantity of MSA and SJP materials, an advanced anti-Israel and pro-Palestinian discourse has really dominated the campus square for over a decade, negatively affecting perceptions of literally hundreds of thousands of California University students," Rossman-Benjamin said.
Rossman-Benjamin co-founded the Amcha Initiative, an organization that aims to protect the "safety and well-being of Jewish college and university students" and to fight against anti-Jewish and anti-Israel discourse and behavior in classrooms and university-sponsored events.
More here. h/t: Vlad