How many more reasons do you need not to support the FSA?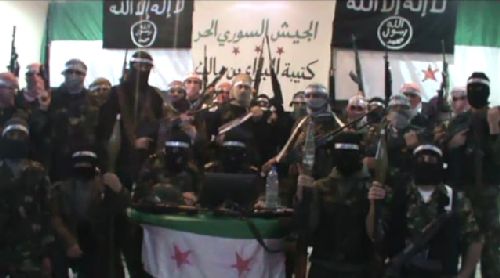 "In reality this is a blow to Iran and Hezbollah together," Gilad said of the situation in Syria. "They admit it and are doing everything so Assad survives."
Gilad: Al-Qaida menace growing in Syria
By HERB KEINON
04/02/2013 05:40
Senior Defense official says Israel concerned with al-Qaida, but it is not as much a threat as Iran-Syria-Hezbollah axis.
Israel may be concerned about the growing presence of al-Qaida elements in Syria but that threat pales in comparison with the menace posed by the Iran-Syrian-Hezbollah axis before the Syrian civil war, Amos Gilad said in an interview that appeared Monday.
Gilad, the head of the Defense Ministry's diplomatic security bureau, said in an interview on the Walla website that al-Qaida activists who are flowing into Syria are saying publicly that they are "waiting for the opportunity to take over the state."
He also said al-Qaida was working inside Syria in a systematic manner, and through major attacks, to build up the organization's strength.
"But still, with all due respect to that threat, it is not the same threat as one posed by Iran, Syria and Hezbollah together, which is much more difficult," he said.
While the crumbling of Syria harms the Iran-Syrian-Hezbollah axis, and – at least in that regard – is a positive development, it is not as if a new democracy is just waiting in the wings to fill the vacuum once Syrian President Bashar Assad exits the scene.
"You can look now and see al-Qaida in Syria, economic lows, instability, the lack of one address, huge refugee problems," he said, referring to a Syria after Assad. "This all presents new types of challenges that are not similar to the military challenge [Syria posed to Israel before the civil war]."