Wrong side in sight.
Gates of Vienna takes the ICSR to the woodshed, hopefully the experience clears out their cobwebbed perspective.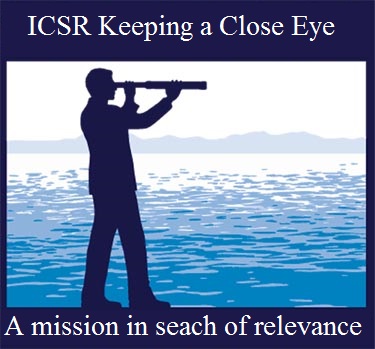 Keeping a Close Eye on the Right Wing
Many of the surveillance capabilities acquired by our governments over the past dozen or so years were added to their toolboxes to prevent "terrorism". Needless to say, in order to be fair and inclusive and to avoid "profiling", our wardens in their digital eyries are required to spend at least as much time and money observing "right-wing extremists" as they do monitoring Muslim mujahideen or radical Greens. Anything less would be evidence of discrimination.
Therefore, if you're an "Islamophobe", you may as well get used to being watched. Homeland Security director Janet Napolitano has made it clear that she regards people like you and me as potential terrorists, and the European Union has long considered nationalists and immigration-critics to be de facto enemies of the state. Anders Behring Breivik only served to confirm that position. In the minds of the elites, it has been proved that anybody who opposes Islamization may become dangerously violent at any time, and thus needs to be carefully monitored.
To supplement the state security agencies, numerous quasi- or non-governmental organizations have been set up to keep an eye on "right-wing extremism", and are often generously funded by the state or its cut-outs. One such group is the International Centre for the Study of Radicalisation and Political Violence (ICSR).
According to its website, ICSR was founded in 2008 with the support of five academic institutions: King's College London; the University of Pennsylvania; the Interdisciplinary Center Herzliya (Israel); the Jordan Institute of Diplomacy; and Georgetown University. It is also affiliated with the Centre for Policy Research in New Delhi and the Pakistan Institute for Peace Studies in Islamabad.
Not a reassuring masthead for those of us who are "Islamophobes". Herzliya, however, is a decent organization, and over the past five years ICSR has at least tried to take a look at Islamic radicalism. So this is a serious organization, and not just another cardboard cutout erected by the hard Left.
Like virtually all its sister "observatory" organizations, in the wake of Breivik's massacre ICSR gave priority to investigating nationalism and anti-immigration movements in European, so that the next wave of right-wing terrorism could be detected in advance. To that end ICSR seems to have secured funding, commissioned a couple of investigators (and presumably a staff of researchers to help them), and spent the past eighteen months compiling a report. Then, a couple of weeks ago, it convened a conference to showcase the results.
The conference was not announced publicly beforehand, but at the beginning of this month ICSR sent out the following invitation to a select private list:
What Is the New Far Right?

ICSR Conference and Report Launch

At this major conference, experts, analysts and policymakers from across Europe will discuss the evolving threat from a new breed of far right extremists, the so-called "Counter-Jihad" movement.