UPDATE: Scroll down for update by TT tipster Anushirvan
H/T: Anushirvan: The man has been named as Hakim Benladghem on Belgian state tv. 
NOTE: Vlad has a vid coming, hopefully with subtitles, thanks to Anushirvan's h/t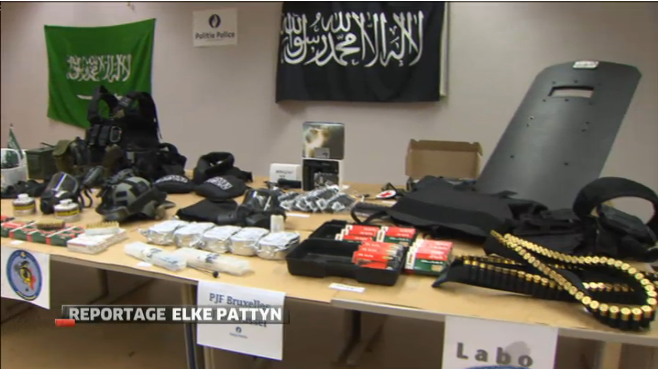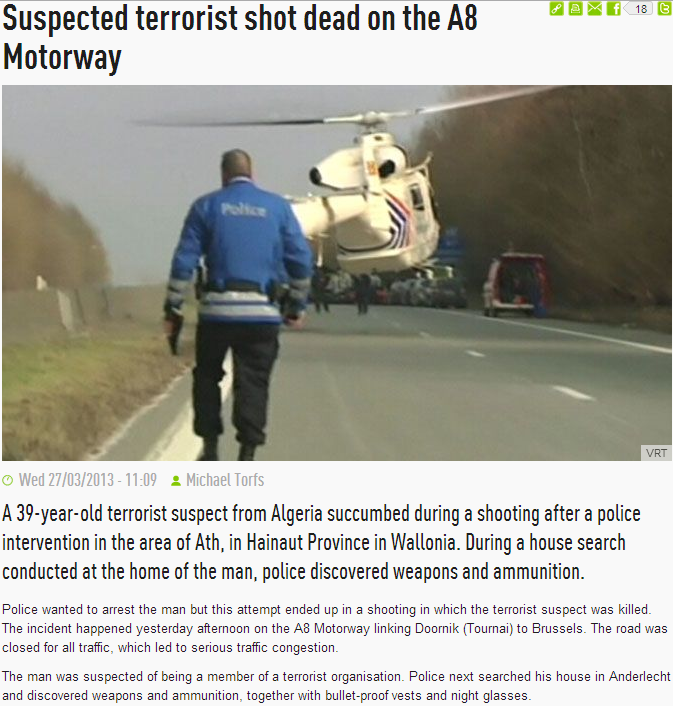 MORE: A more detailed report can be found on Expatica:
Belgian police were Wednesday due to display guns, ammunition and explosives seized after a motorway chase ended in a deadly shootout with a man suspected of terrorist links.Police shot dead the man, of Algerian origin, after he opened fire on them Tuesday.
Officers had been investigating him following a tip-off from French authorities. They had already linked him to one recent robbery and moved in to arrest him after receiving information that he might be planning another crime. In a statement early Wednesday, French Interior Minister Manuel Valls praised Belgium for its cooperation in anti-terrorism operations.
The shootout occurred Tuesday afternoon as police chased the man down the A8 motorway linking the capital Brussels and the southern city of Tournai.The suspect was a known figure in the Brussels criminal underworld, said Tournai prosecutor Marie-Claude Maertens, the Belga news agency reported.When police decided to move in to arrest him, he refused repeated calls to stop and then drove at police officers, opening fire at them. The police fired back and fatally wounded him, she added.
Later Tuesday, the federal prosecutors' office told reporters that Belgian investigators had opened their investigation into the 30-year-old man in response to two French requests for information on him late last year. French investigators had said they suspect he belonged to a criminal gang with terrorist ties.The Belgian investigation established that the man was buying military equipment including weapons, bullet-proof clothing and telescopic sights.
Police also linked him to a robbery at a restaurant in Brussels last Thursday during which shots were fired. And when they received information he was preparing another crime they decided to move in and arrest him. Following the motorway shootout, police searched the suspect's home in the Brussels suburb of Anderlecht and found weapons, ammunition and explosives.
Police will display the arsenal on Wednesday. Officers also arrested a woman and were questioning her Tuesday night, Belga reported.From Paris, Valls said early Wednesday that he had spoken to his Belgian counterpart Joelle Milquet after the shooting. He praised Belgium for its "determination to pursue bilateral cooperation in the long and difficult struggle against terrorism".And he confirmed that the two countries had been collaborating closely on the operation to investigate the suspect, with France's internal security anti-terrorism service, the DCRI, involved.
For several hours during the search of the suspect's house on Tuesday, police sealed off the road outside his home and evacuated residents while they checked for booby traps. They let people back into their homes later that evening, RTL-TVI television reported.