Disgusting puke.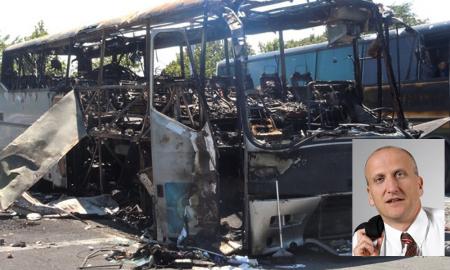 It pains to think that there are many more where this piece of crap came from. Also, as a friend notes, "this is a good example of the bogus anti-zionism argument as mere criticism of Israeli policies." True, as well as Candrian's picking up on the Arabs' actual understanding that they are actually fighting "the Jews" not just the "Zionists". The term is used interchangeably.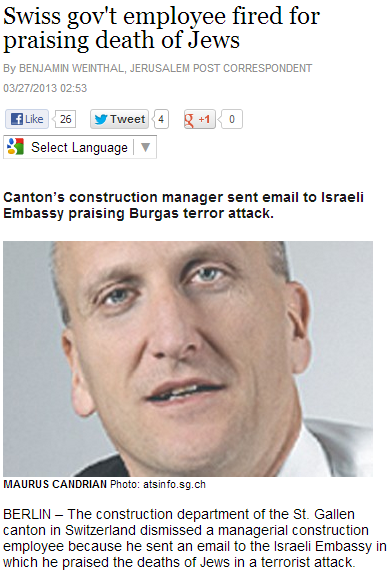 Candrian wrote in his email about the attack on Israeli tourists in Burgas in July 2012, "That is a good day in my life. I am proud of the heroes who killed Jews."
Bulgaria's interior minister concluded last month that two Hezbollah operatives murdered five Israelis and their Bulgarian bus driver.
The large-circulation Blickpaper reported on Monday the reasons for the termination of Maurus Candrian, who headed the planning assessment department. His actions damage the reputation and values of the department of construction, as well as the entire administration of St. Gallen (population 480,000), the authorities said.
Candrian, 54, a member and former vice president of the centrist Green Liberal Party, sent an email to Israel's Embassy celebrating the death of Jews in a terrorist attack. The Candrian case was cited in a 2012 anti-Semitism report in Switzerland.
The state prosecutor in St. Gallen initiated a criminal action against Candrian for racial discrimination. He was sentenced to a fine of 1,200 francs.