So I guess calling them feminazis would be a no go.
It's only natural that once hate speech laws are enacted, the momentum to include every other group presently favored by the powers that be, have their protection as well. That is what group identity politics are all about, we are no longer unique individuals but groups of this and of that.
How farcical is it that someone's politics are deemed "a race", and therefor off limits to criticism. It would totally hysterical in any other age, but in the present day, it could actually come to pass, and that should scare every single person who values their liberal, pluralist, representational democracy.
H/T: Vasarahammer: Feminists were the first to utilize victimhood. However, they are very late in banning hate speech. Muslims beat them to it. Gays are already a protected species according to Finnish law concerning incitement.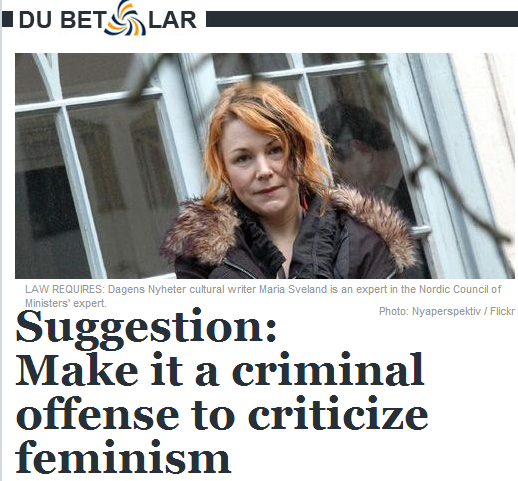 NORTH. Criminalize anti-feminist statements in the public debate, just as hate speech is criminalized today. A tax-funded Nordic group of 35 experts proposed in a report on anti-feminism and right-wing extremism to the Norwegian government.
Behind the report, according to NRK the Ressurssenteret Reform and the Nordic Council of Ministers, on Wednesday made ​​several suggestions on how the government should take action against what it calls "threats, hatred and harassment" mainly on the Internet. As threats are classified among others as "anti-feminist attitudes" expressed in the public.
Under the proposal, anti-feminist attitudes are prohibited unless they are expressed through "attitude, behavior and action." As counting as anti-feminism  are the following views under the proposal:
– Opposition to feminism and equality.
– Wanting to re-create a hierarchical social order in which heterosexual men are privileged.
– Opposition to the elimination categorizations of gender, race and sexual orientation.
Are Saastad is the leader of the team that developed the proposal. As an example of who the law is meant to protect, he mentions to Dagens Nyheter the cultural writer Maria Sveland, who claims to be the victim of "anti-feminist harassment".
Among the scientists and experts who contributed to the report include the Swedish radical feminist and AFA veteran Mattias Gardell and Shoaib Sultan, "extremist expert" at Anti-Racist Senter in Norway. Even Mary Sveland himself participated in projeket, said NRK.
Even now, the report's proposal, is however, strongly criticized. In Norwegian Dagbladet  cultural critic, Kjetil Rolness writes on how the proposal is similar to "censorship".
The report was financed by the taxpayers of Nordic countries through the Nordic Council of Ministers.