Not to worry, they'll be walking it back shortly.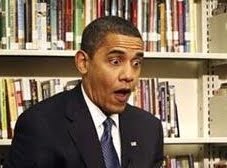 Now from the Volokh Conspiracy:
BREAKING: Obama White House Describes West Bank as Part of Israel
Eugene Kontorovich • March 15, 2013 11:46 am
In describing President Obama's itinerary during his trip to Israel and Jordan next week, Deputy National Security Advisor Ben Rhodes conceded that the Jewish connection to the West Bank is as strong as it is to Israel, and indeed, spoke of the two interchangeably:
Thursday, the President will begin by going to the Israel Museum. At the Israel Museum, he will view the Dead Sea Scrolls, which are a testament, of course, to the ancient Jewish connection to Israel and, frankly, a marvel that the Israelis have restored within the Israel Museum in a very substantial, impressive way. So the President very much looks forward to the opportunity to see the Dead Sea Scrolls.
The Dead Sea Scrolls were first discovered in the Qumran caves in 1947, when it was part of the League of Nations Mandate for Palestine. Thus the White House seems to recognize that Israel's history and borders are rooted in the Mandate – what happened in the "West Bank" in 1947 is somehow "connected" to Israel.
Moreover, most the the scrolls were recovered in the the 1950s, after this portion of the Mandate was illegally invaded and occupied by the Jordan. To put it simply, the Dead Sea Scrolls are from the West Bank, otherwise known as "Occupied Palestinian Territory." The Dead Sea Scrolls, one might say, are written by settlers.