Remember, Obama said Afghanistan, not Iraq, should have been the focus.
They're calling him "delusional", but whether it's by tacit approval, collusion or by epic fail Obama orchestrated policies, the end result is the same, a highly invigorated and emboldened Tali-tard opposition that sees the end goal nearing.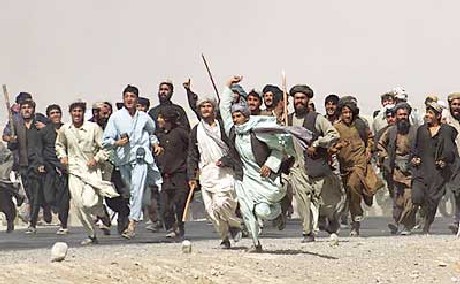 Karzai Accuses U.S. of Taliban Collusion as Hagel Visits
By Gopal Ratnam – Mar 11, 2013 12:05 AM GMT+0200
Defense Secretary Chuck Hagel was greeted on his first visit to Afghanistan since taking office by suicide bombs, threats and Afghan President Hamid Karzai's accusation that the U.S. is colluding with the Taliban.
As Hagel prepared to leave a U.S. military compound in Kabul on March 9, a Taliban suicide bomber blew himself up outside the Ministry of Defense, and another suicide bomb detonated in Khost province. Yesterday, Karzai said that those attacks, which together killed 19 people, aided U.S. goals. A joint Hagel-Karzai press conference at the presidential palace was canceled for what Pentagon officials said were security reasons.
While the Taliban said the attacks were aimed at sending a message to Hagel that the insurgents remain a powerful force, Karzai said in a speech yesterday that the U.S. is holding peace talks with the radical Islamists and the bombs were in the "service of America."
"On the surface and to this outside observer, it appears that Karzai has gone way off the reservation, perhaps more so than he has in the past," said David Maxwell, a retired U.S. Army colonel who's associate director of the Center for Security Studies at Georgetown University's School of Foreign Service. "I cannot see how we could work with such an apparently delusional leader much longer, but unfortunately I do not know if we have any other good options."